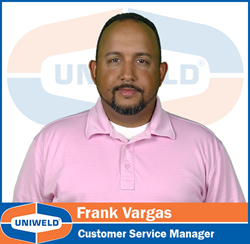 I love the fact that Uniweld is very dedicated to its quality control ...
Ft. Lauderdale, FL (PRWEB) May 12, 2014
Uniweld Products is a global leader in the manufacturing of tools for the HVAC/R industry as well as oxy/fuel welding and cutting equipment and accessories. Frank Vargas, Uniweld's Customer Service Manager, has a long standing commitment to global customers and vast experience in the areas of Customer Service, Sales, Management, Shipping Logistics, and Training, skills that help to provide Uniweld's valued customers with exceptional support.
Having worked with companies such as Grainger, Belron, & Pizza Hut (PepsiCo.), Frank Vargas states, "I love the fact that Uniweld is very dedicated to its quality control and looks for ways to maintain such high standards. Also, the whole family oriented culture we have here is a big attraction. The experience & knowledge which I have acquired throughout my professional career, have helped me implement fresh ideas."
Since joining the Uniweld family, Frank has lead the company to implement several technologies and training programs that allow the organization's customer service department to provide a world-class level of service. Furthermore, to better serve Uniweld's customers, Frank and his team continuously strive to enhance their professional abilities by attending training courses, webinars, and local seminars that are available.
Frank is a sports enthusiast with a focus for baseball. He keeps very active with his responsibilities as a High School baseball coach and his two sons are also actively involved in baseball leagues. To fuel their active lifestyles, Frank's passion for cooking comes in quite handy.