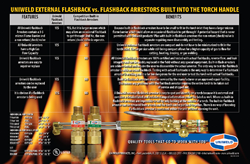 Quality Tools That Go to Work With You
Ft. Lauderdale, FL (PRWEB) May 06, 2014
Uniweld Products, Inc., a global leader in the manufacturing of oxy/fuel welding and cutting equipment and accessories, introduces a Flashback Arrestor Counter Mat featuring the safety features of Flashback Arrestors. With a multitude of styles and brands in the market, it is important for the operator to understand the value that Uniweld Flashback Arrestors bring to the safe operation of their oxy/fuel apparatus.
The oxy/fuel gas process is one of the most efficient methods for cutting, brazing, and welding materials. Mixed oxygen and fuel gases are, however, highly explosive. When improperly used through operator error, attention, and lack of training or defective product, it is possible for a serious accident to occur. For multiple reasons, it is possible that the flame blows back into pipelines, hoses, regulators, and gas sources such as the cylinders. This may then cause a flashback, resulting in dangerous consequences.
Uniweld's Flashback Arrestors are externally mounted to the torch or regulators, thus providing easy access for periodic testing and servicing. OSHA and ANSI Z49.1: 2005 require every Flashback Arrestor and check valve to be tested and maintained in accordance with the manufacturer's instructions. This type of testing is often a yearly requirement, but can be required more often if used for heavy-duty applications. It is also important to note that failure to perform regular Flashback Arrestor testing can result to personal injury, equipment damage, or heavy fines for OSHA violations.
It has been a common practice to use reverse check valves either on the torch or regulators to prevent gases from traveling back to the gas sources. Although the check valve will prevent the reversal of gases, it does not prevent flame from making its way back to the gas source. Uniweld's Flashback Arrestors provide the needed safety to prevent a spark or flame to work its way back to the gas source thus ensuring the operator's safety.
With the introduction of the Flashback Arrestor Counter Mat, more awareness will be brought to the attention of operators, thus improving safety on the job site.