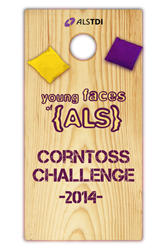 Cambridge, MA (PRWEB) April 14, 2014
The ALS Therapy Development Institute (ALS TDI), through its Young Faces of ALS (YFALS) campaign, announced today the launch of its fourth annual "National Corntoss Challenge" events in cities across the country. The purpose of the National Corntoss Challenge is to fundraise for ALS TDI in its mission to discover and develop effective treatments to end ALS, also known as Lou Gehrig's disease.
Current cities participating in this year's National Corntoss Challenge include Washington D.C., New York, Boise, San Francisco, Seattle and Boston. Each event is being organized by members of the YFALS campaign, a group of people mostly under the age of 30 who are living with ALS, have a family member or friend living with the disease, or participate in memoriam of someone who had ALS.
Each National Corntoss Challenge location will feature a day-long tournament of the popular game, corntoss, also known as cornhole, as well as entertainment, food, beverages and prizes. National sponsors of the YFALS Corntoss Challenge include North Point Trust Company LLC, Cytokinetics and Taylor Farms.
"People usually associate older people with having ALS, but I was diagnosed when I was 21," says Corey Reich, a 28 year-old who is living with ALS. He and his family organize the San Francisco Corntoss Challenge, which will be held on June 28. "I'm doing all I can to raise awareness of ALS and fundraise for treatments to stop the disease. This is the fourth year we're holding a Corntoss Challenge, and it's always been a fun day playing corntoss, drinking beer and being surrounded by family, friends and others who are trying to help put an end to ALS."
All proceeds from the Corntoss Challenges benefit drug development at ALS TDI, the world's largest research organization dedicated to ending ALS. Over the last three years, the National Corntoss Challenge has raised nearly $500,000 and engaged over 3,000 players and 17 participating cities from coast to coast. This year's fundraising goal is $300,000. Every dollar of this will go to the advancement of treatments and cures for ALS patients today.
To participate in a Corntoss Challenge, donate or learn more about the YFALS campaign, please visit http://www.yfals.com.
About Young Faces of ALS (YFALS) Campaign
The YFALS campaign was created by a group of people living with ALS who all share a disturbing characteristic – they all received their diagnoses before their 30th birthdays. Because ALS has often been categorized as a mid-to late-life disease, there was no known national recognition of people with ALS under the age of 30 prior to the establishment of YFALS. The campaign was created as a community for young ALS patients as well as their affected families and friends. YFALS has become a catalyst for accelerating drug development at the ALS Therapy Development Institute through fundraising events. Learn more at http://www.yfals.com.
About ALS Therapy Development Institute (ALS TDI)
The mission of the ALS Therapy Development Institute (ALS TDI) is to discover and develop effective treatments to end ALS as soon as possible. ALS TDI is the world's largest independent ALS/MND drug development-focused nonprofit organization. It currently has partnerships with dozens of pharmaceutical and biotechnology companies worldwide in order to advance potential treatments into the clinic. Its lead ALS therapeutic candidate, Novartis' (Switzerland) Gilenya (TDI-132), is in Phase 2A clinical trial for ALS. For more information, visit http://www.als.net.
Media Contact: Mari Sullivan, ALS TDI, (617) 441-7220, msullivan(at)als(dot)net