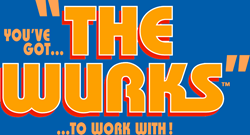 Quality Tools That Go To Work With You
Fort Lauderdale, Florida (PRWEB) June 25, 2014
Uniweld's The Wurks™ includes the tools necessary to work on just about any project. Whether it's, automotive, general home maintenance, plumbing, welding, etc., The Wurks™ has it covered. The Wurks™ comes in three different styles and is an easy to operate, all-purpose outfit that's packed in its owned rugged tool box with compartmented accessory tray.
The Wurks™ offers cutting and welding capacities with its supplied tips that can be expanded with other tips that are sold separately. Included in every Wurks™ box are one Welding Handle, one Cutting Attachment, one Cutting Tip, one Welding/Brazing Tip, one Medium Duty Oxygen Regulator, one Medium Duty Acetylene Regulator, one 12.5 foot twin hose, one Safety Goggles with flip-up shade, one Flint Lighter, one Tip Cleaner, and one set of leather welding gloves.
For more information on The Wurks™ by Uniweld Products, Inc., visit Uniweld.com.