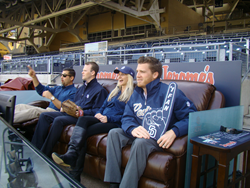 "Completely changes the meaning of 7th Inning Stretch"
San Diego, CA (PRWEB) April 10, 2014
San Diego Padres Fans are having a moment. The season has started, the opening game was a big win against the Dodgers, and Jerome's Furniture has created a luxury-viewing area behind home plate. Fans now have the opportunity to watch the game in ultimate style and comfort.
Jerome's Home Plate Box Seats sit behind home plate and allow fans to kick back on a leather reclining sofa while they watch the game. Jerry Navarra, chairman, namesake, and spokesperson says, "We're thrilled to be a part of the Padres excitement this year, and they've been great to work with. At Jerome's, we're in the business of creating fabulous environments and are considered the" home team" for furniture in San Diego. We thought it would be fun to create the ultimate comfort environment for America's greatest game. It completely changes the meaning of 7th inning stretch."
So how do you get to be seated in quite literally "The Best Seat in the House"? Simply visit any Jerome's Furniture store and register to win. If you do you'll receive:

4 tickets to a Padres home game
Exclusive VIP Home Plate Seating in a luxury reclining leather sofa
A private flat screen TV for watching replays
In seat food and beverage service
And

A chance to see yourself on the big screen.
"We are happy to welcome Jerome's back to Petco Park," said Padres President & CEO Mike Dee. "As a local, family-owned business, Jerome's has been a community staple for 60 years. They have taken the Home Plate Box Seats and created a true experience. Our fans are in for a treat when they sit in the Best Seat in the House."
The Padres introduced a total of six Home Plate Boxes this year and Jerome's has furnished all six of them for added luxury. The Best Seat in the House will be available to Jerome's/Padres fans for the entire regular season.
Jerome's will also be bringing Blooper Reels to fans at the stadium throughout the season. According to Jerry Navarra, "This is a fantastic way to showcase our Jerry's Bloopers Store. In sports Bloopers are mainly funny. At a furniture store they become a shopper's dream. We thought it was a good fit."
###
ABOUT JEROME'S:
Founded in 1954, Jerome's Furniture is a family owned and operated business headquartered in San Diego, California with 9 showrooms and 8 clearance centers located across Southern California. Regarded fondly by generations of families, Jerome's is known as the best furniture retailer for value ("Jerry's Price") and a wide selection of products. Recognized with numerous awards, including Retailer of the Year by the Western Home Furnishings Association. Customers know they can count on Jerome's. Services such as same day delivery, interior design services, and financing all work together to make the process of turning a house into a home an easy one. More information can be found by visiting http://www.jeromes.com.