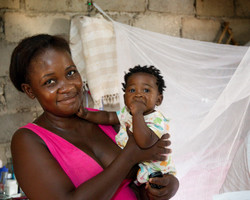 Today, as we climb closer to our $75 million dollar goal, it is my joy to say 'thank you' for helping make this effort, and our denomination, a relevant and significant participant on the world scene of global health.
Nashville, TN (PRWEB) April 10, 2014
Imagine No Malaria announced today that United Methodists are 80 percent of the way toward reaching their goal of raising $75 million by 2015. In the past year alone, the people of The United Methodist Church have made contributions and pledges of more than $28 million, boosting the total raised to more than $60 million.
In the coming weeks, five annual (regional) conferences will launch fundraising efforts, joining 19 other active conferences. The Holston, Illinois Great Rivers, Minnesota and Western Pennsylvania conferences have all exceeded their goals.
"For the past several years we have said 'please' consider making a pledge and a commitment to saving lives through Imagine No Malaria," said Bishop Thomas Bickerton, who chairs the United Methodist Global Health Initiative. "Today, as we climb closer to our $75 million dollar goal, it is my joy to say 'thank you' for helping to make this effort, and our denomination, a relevant and significant participant on the world scene of global health."
The death toll has been cut in half.
Since 2006, United Methodists have focused on the challenge of saving lives at risk from malaria – a preventable disease that still kills a child every 60 seconds. In the past eight years, the church has helped cut the death toll in half.
Next month in Sierra Leone, The United Methodist Church will take part in a national distribution of 3.49 million nets. The new nets will replace nets provided through the church and its partners in 2010. The invitation to participate in the second nationwide distribution and the complementary maternal and child health initiatives is an affirmation that the Sierra Leone government recognizes The United Methodist Church as a key partner and stakeholder in an impressive network of innovators, implementers and donors.
Donations to Imagine No Malaria have aided United Methodist health facilities in Africa to improve their capacity to treat malaria, both directly and indirectly.
United Methodist partnerships with other malaria organizations and the establishment of United Methodist health boards have made it possible to secure additional funding from outside sources. For example, the Health Board in the Democratic Republic of Congo has received funding for two grant proposals from the Global Fund to Fight AIDS Tuberculosis and Malaria. In Zimbabwe, a two-year grant will fund an innovative pilot project to test the use of mosquito repellent creams as a prevention tool. Incorporating social media is a key communications goal in the pilot.
Campaign has helped rev-up members and revitalize churches.
Donations have been raised one dollar at a time, one member at a time, one church at a time – ranging from children donating pennies to major individual gifts of $500,000 in Iowa and $1,125,000 in California-Nevada – through lemonade stands, basketball competitions, gigantic mosquitoes, Christmas tree collections and dozens of other creative ideas (even skydiving). Imagine No Malaria provides resources to help local churches with fundraising ideas.
"This campaign has moved beyond financial goals," said the Rev. Larry Hollon, chief executive of United Methodist Communications. "United Methodists have embraced the opportunity to be involved in the world beyond our own backyards and mobilized congregations to make a difference on a global scale."
Media Contact:
Diane Degnan ddegnan(at)umcom(dot)org
615-742-5406 (office)
615-483-1765
About The United Methodist Church
The United Methodist Church has more than 12 million members globally and is in mission in more than 135 countries. It is the second largest Protestant denomination in the U.S., with about 33,000 churches. Our mission is making disciples of Jesus Christ for the transformation of the world. Our tagline "Open hearts. Open minds. Open doors." embraces who we are and how we seek to put our faith in action. Learn more at UMC.org.
About Imagine No Malaria
Imagine No Malaria is an extraordinary ministry of the people of The United Methodist Church, putting faith into action to end preventable deaths from malaria in Africa, especially the death of a child or a mother. With a comprehensive approach to fighting this killer disease, Imagine No Malaria empowers the people of Africa to improve health infrastructure and achieve a sustainable victory over malaria.