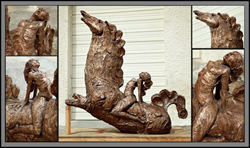 "Due Diligence is the process of systematically researching and verifying the accuracy of a statement". By WhatIs.com
West Palm Beach, Fl (PRWEB) April 16, 2014
Surreal Sculpture Artist, Cheri Mittermaier had been an artist for 7 years when she was contacted through email by a company offering to exhibit her work. At that time, Mittermaier had shown her work in approximately 19 shows. This was not the first time Cheri had been invited to exhibit.
The representative for this company called her and started telling Mittermaier all these great things about her work. Cheri said, "I was dizzy from all the compliments." She took the bait and agreed to look over a proposal of what the representative had to offer in the way of exhibiting in an art fair of high caliber.
In a very short amount of time, the contact came up with an email including three venue options. Each with a significant price tag. One being a participant in a group show, the second being the main focus of a group show, and the third being a solo show, with the fountain "Unbridled" displayed outside in all three options. To top it all off, the solo show offered a kick-off party at a local museum.
Cheri had some doubts. Mittermaier, couldn't believe the representative had obtained permission from the city so quickly to display Cheri's fountain because it is such a provocative piece. Furthermore, her sister was sounding the alarm that this could be a scam. Cheri started asking around, one friend in the industry, said, "Look out, what they are offering is too expensive," and another friend also in the industry said, "Look out, it's too cheap."
Mittermaier's assistant was busy doing detective work. She did a massive records search on the company and the representative who contacted Cheri and could only find a teeny tiny footprint on the Web. Even funnier, she checked their address on Google Earth and it was on the 22nd floor of a five story building. Bells are ringing, flags are flying and Cheri wanted to be in the show. Mittermaier said, "I was temporarily blinded by how obnoxious the situation was." Cheri had her friend, a prominent artist, call the show because she could not get through. He discovered the company had not applied and that the jurying process for vendors had not even begun. Therefore, it was impossible for this organization to be making these promises.
Mittermaier said, she learned "When I get an email invitation, I do my due diligence, starting with executing a thorough background check on the Internet." If a company has a generic sounding name, Cheri immediately becomes suspicious. If a company has a small footprint on the Internet or a flimsy website, she does not apply with them.
Cheri Mittermaier was born in 1962 in the state of Indiana, USA. She is a graduate of Purdue University with a Bachelors degree in Psychology with a concentration in Fine Arts and Humanities. Cheri currently lives and works in West Palm Beach, Florida, USA.