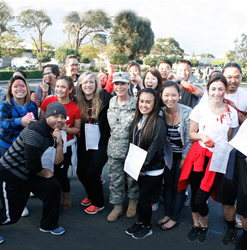 Our goal is to prepare civilian and military emergency services for disasters so that we can work together in the future to minimize loss of life. -Navraj Bawa, COO
(PRWEB) April 12, 2014
On April 5th, Unitek Education hosted Operation Urban Rescue, one of the largest multi-agency, mass-casualty training simulations held in the Bay Area. Operation Urban Rescue concentrated on a military and civilian response to a simulated domestic disturbance in Fremont, California. Participants responded to an armed insurgent threat, improvised explosive devices, hazardous materials, critical medical conditions, and a massive disaster scene. Operation Urban Rescue aimed to prepare the community for a major disaster by integrating military and civilian emergency medical services into one training event.
This year's Mas-Cal Training scenario featured a huge disaster area, two scenario hospitals, an active ambulance circuit, dynamic extraction lanes, and a dedicated helicopter landing zone. More than 600 people were involved in Operation Urban Rescue, including 32 government agencies, 264 patients, 40 medical instructors, and 245 military personnel. During an Operation Urban Rescue drill, the Fremont Police Department's S.W.A.T. Team took action to contain hazardous materials; several volunteer patients also participated in a decontamination drill. Throughout the day, CALSTAR and the Sonoma County Sheriff's Office transferred patients via helicopter for treatment in nearby Washington Hospital.
We were honored to have Congressman Mike Honda, Mayor Bill Harrison, and Dr. Tae Yun Kim attend Operation Urban Rescue; their support validates the importance of this training exercise for our community. Additionally, Operation Urban Rescue received media attention from NBC KNTV and KDOW's Business on the Edge radio show.
Unitek Education's EMT students and instructors trained alongside military and civilian personnel in Operation Urban Rescue, gaining first-hand knowledge about treating critical injuries in a disaster setting. This opportunity allows Unitek Education's EMT students to practice their skills in a realistic environment before graduating. Unitek Education is dedicated to organizing future collaborative events that provide valuable training and enhance the safety of the community as a whole.
Unitek Education's EMT Training division's mission is simple: Train the next wave of elite EMT professionals. Founded in 2004, Unitek Education's 14 Day On-Ground Training prepares students for their NREMT over 2 weeks of intense training and real-life simulations. For more information about 14 Day On-Ground Training, call 888-790-1458.
For more information about our annual mass-casualty training events, please visit unitekeducation.com/emt-training/.