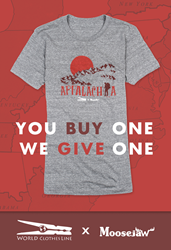 Madison Heights, Mi (PRWEB) April 10, 2014
Moosejaw, the quirky outdoor retailer, has partnered once again with World Clothes Line to support its mission of clothing the world. For every Limited Edition Moosejaw/WCL tee sold, Moosejaw will donate one piece of clothing to someone in need.
For the past three years, Moosejaw has partnered with World Clothes Line and helped to clothe adults and children in Indonesia, Africa, and Israel. This spring, World Clothes Line will be traveling to eastern Kentucky to give back to the community in the Appalachian region.
"World Clothes Line's mission is a global one, but it's important to remember that poverty exists everywhere, even in our own county," explains Mallory Brown, the founder of World Clothes Line. "The region along the central Appalachian Mountains is one of the poorest in the U.S. We're so excited to visit with families in need, share their stories and help provide them with clean, durable clothing."
To learn more about World Clothes Line visit http://www.WorldClothesLine.com. To support Mallory on her mission to Appalachia, you can get a Moosejaw x WCL Appalachia Tee at any Moosejaw shop or online at http://bit.ly/MJxWCL.
###