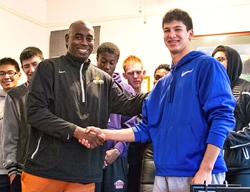 Mt. Pleasant, Utah (PRWEB) April 11, 2014
For the fifth consecutive year, the Wasatch Academy family will celebrate statewide recognition as the Best Private School K–12 by the Best of State organization.
Additionally, the Best of State organization has named Wasatch Academy boy's basketball head coach Geno Morgan as the Best High School Coach. Coach Morgan has won the award in the four previous years, as well.
Wasatch Academy won the Best of State Statue for Education in 2012. The BOSS statue is chosen from among the medal winners in the Education category, which includes public and private schools, universities and individual educators. The 2014 BOSS winners will be announced during the organization's annual awards gala on June 4.
Wasatch Academy, founded in 1875, is a college prep boarding school in Mt. Pleasant, Utah with 340 students from nearly 40 countries and 25 states. Graduates of Wasatch Academy have gone on to become everything from members of Congress to filmmakers to teachers. Approximately one-third of the student body are day students from Sanpete County, and the school dedicates a generous amount of financial aid to ensure that local students can attend the school.
Geno Morgan has coached the Wasatch Academy basketball since 2009. During his tenure, the school has won three state titles (2011, 2013, 2014) and compiled a record of 51-2 over the past two seasons. In 2013-14, the Tigers also won the Tarkanian Classic (Gold Division) and the Legacy H.S. (Las Vegas) Classic while finishing second at the Alaska Airlines Invitational.