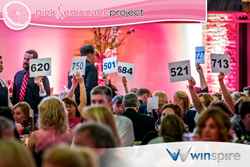 Portland, Oregon (PRWEB) April 15, 2014
Nearly 400 people attended the first ever "Pink Glow Party with a Purpose" event at the Leftbank Annex in Portland, Oregon last month. Proceeds from the fundraising dinner and auction supporting Pink Lemonade Project, a nonprofit dedicated to educating, empowering and supporting those affected by breast cancer. Held in a unique urban space and shrouded in a pink glow, the evening was a resounding success with over $195,000 raised through ticket sales, auction items and donor contributions.
"Our goal was to host an evening that stood out from the traditional nonprofit event," explains Events & Development Director Leslie Stose, "We wanted to step away from the hotel ballroom and bring a fresh experience to our guests. We created a party atmosphere that left people wanting more."
Winspire partnered with Pink Lemonade Project to provide five exclusive travel experiences that helped raise over $12,500 as live and silent auction items during the gala. The experiences sold a total of 11 times, with four of the packages selling twice and a Beach & Golf Getaway in Cabo San Lucas selling three times. Travel packages included tickets to the American Music Awards, ESPY Awards, an all-inclusive trip to Costa Rica, and a Championship Golf Experience in Scottsdale. During the live auction winning bidders were showered with confetti and given a bottle of champagne to share with their table to celebrate.
Stose continues, "The event was more than we could have ever dreamed of! Our Board of Directors, staff and community members worked tirelessly to create an event that was fun, memorable and enlightening. It was a party with a purpose! The funds we raised will help our organization ten-fold, allowing us to serve more people and further develop our newest programs."
ABOUT PINK LEMONADE PROJECT
Pink Lemonade Project is a nonprofit organization dedicated to rewriting the story of survivorship. Programs are designed to serve women throughout their breast cancer journey and help them move beyond – from survivor to thriver. Their mission is to educate, empower and support those affected by breast cancer. They are the only organization supporting breast cancer patients in Southwest Washington. For more information, visit: http://www.pinklemonadeproject.org
ABOUT WINSPIRE
Winspire provides unique once-in-a-lifetime travel Experiences for nonprofits to use in benefit auctions or charity fundraisers. This increasingly popular fundraising tool allows organizations to place exclusive travel packages in their fundraisers without any upfront cost. Since organizations purchase only those packages they sell, Winspire Experiences can be used with no risk at live auctions, silent auctions, raffles and any number of fundraising events.
Since 2008, Winspire has been involved in more that 25,000 events and helped raise over $30 million for charity with these experiences. More that 55,000 satisfied winning bidders have purchased and enjoyed a Winspire package, which include Experiences such as award shows, major sporting events, VIP access, family vacations, international trips, cruises and hundreds more. Winspire provides a booking and concierge service for ever winning bidder, handling each Experience down to every last detail. For more information, please visit http://www.winspireme.com.