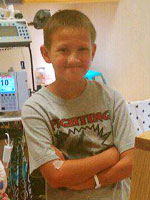 Children like Keegan provide true inspiration for how anyone, big or small, can contribute to making the world a better place.
Madison. VA (PRWEB) May 06, 2014
HearthSong is pleased to announce that Fremont, Michigan native, Keegan Bulk, is the company's newest HearthSong Hero award recipient, a bi-annual award honoring children who help other children.
Originally launched in the summer of 2013 to celebrate HearthSong's 30th anniversary, the HearthSong Heroes program is dedicated to honoring kids who help kids–especially through play. HearthSong honors these kids by contributing to the causes they are passionate about.
At age 11, Bulk, diagnosed with a brain tumor, was required to spend the beginning of his life in hospitals. When he finished treatment he decided he wanted to do something to help other children in the same situation. The young cancer survivor set out on a mission with the motto, "I beat cancer and it ran away scared."
Joined by his parents, he founded Team Keegan, a non-profit organization whose mission is to put smiles on the faces of children suffering from cancer. Team Keegan offers children with cancer a "prize" box filled with toys. After each struggle, the child can pick out a toy as a reward for being brave; a simple incentive to help the child continue to find strength and have joy while fighting the disease.
As the winner of the HearthSong Hero award, Bulk will be honored with 500 HearthSong toys for his Team Keegan "prize" boxes. He will also receive a $500 HearthSong Gift Card as a personal "Thank You" for his honorable work.
"Children like Keegan provide true inspiration for how anyone, big or small, can contribute to making the world a better place," said Beverly Fries, HearthSong's VP of Merchandising. "Keegan is just one of thousands who lets his light shine through helping others. We're especially delighted that his heroic light puts a little more play, joy and love into the lives of children. Our award and donation to all of our HearthSong Hero recipients is just a small thank you to both the children and the parents who nurture positive activities like this."
Keegan Bulk is just one of several children who help others. Past August 2013 award recipients shared their passion for outdoors with an original educational film, helped raise funds to build a school in Sierre Leone, and helped children have a better Christmas through fundraisers and toy wrapping.
HearthSong will be presenting another HearthSong Hero award in the coming months. The deadline to apply is June 30. Applicants 18 years of age or under are eligible for nomination. A committee of HearthSong employees will review all nominations twice a year and may choose to honor one or more Heroes by telling their story on the company's Heroes page. For all rules or to nominate a child visit: http://www.hearthsong.com/heroes.
About HearthSong
Since its beginning in 1983, HearthSong has been committed to helping parents follow their instincts to provide their children with age-appropriate, wholesome, quality playthings. That's because at HearthSong, we believe childhood is a vital chapter in life-a special time when children can be occupied with the joy of being children. And, equally importantly, a time when children need to experience as much creative, imaginative play as possible because kids experience so many of life's first lessons through play.