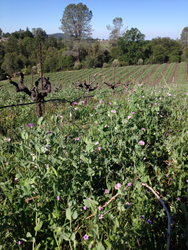 If we can enhance the natural environment, we not only create a healthy vineyard, we can also craft better wines.
Placerville, CA (PRWEB) April 11, 2014
Tales from the Cellar, El Dorado's Passport Weekend Event, appropriately occurs during Earth Month! The region's commitment to sustainability and alternative viticultural methodologies makes it a must-taste location for wine and environmental enthusiasts alike. This year visitors will taste wines, savor food pairings and enjoy live music at over 30 wineries. For more information about the El Dorado wine region and Passport Weekend, April 12 – 13, visit http://www.eldoradowines.org.
Their history steeped in agriculture, the pioneers of the El Dorado wine region use earth friendly vineyard practices to enhance the quality and longevity of their land. Respecting their unique terroir and varietal diversity, many of the area's vineyards and wineries are employing sustainable, organic or biodynamic ideologies, utilizing practices that reduce impact on the land and consider the proximity to rivers and a vineyard's effect on the surrounding ecosystems.
Located in the foothills of the Sierra Nevada Mountains between Sacramento and South Lake Tahoe, El Dorado's high elevation and mountainous setting make it a wine region unlike any other in California. The growers and winemakers who cultivate the grapes appreciate the unique attributes of the area that is rooted in viticultural history. El Dorado sits in a watershed that drains into the American and Cosumnes Rivers. The vineyards sit at elevations between 1000 and 3000 feet, and most have streams or creeks running through them; these lead to larger tributaries, rivers and eventually the San Francisco Bay Delta. Terrie Prod'hon, along with her husband Michel own Mount Aukum Winery and vineyard says, "living here in the mountains, there's an awareness that what we do affects those downstream. We have a responsibility to do the right thing."
The values of sustainability – environmental sensitivity, economic feasibility and social equity – lie at the core of many El Dorado wineries and they translate this ethos into their daily practices. While being mindful of the physical earth, sustainability demands attention be given to the community and quality of life of its people. Vineyard owners employ these principals when making decisions. "It's like a three-legged stool," explains Paul Bush, owner and winemaker for Madroña Winery, "our decisions have to be weighed with all three principals in mind – how it will affect us environmentally, economically and in the community. These are questions we ask ourselves as we make vineyard and winemaking choices."
Techniques for sustainable farming in the region include the use of cover crops, owl boxes for pest control, wildlife corridor integration, and water conservation. The long term effects of sustainable winegrowing are impressive: cost-savings, improved wine quality, conservation of natural resources and enhanced relations with employees, neighbors and the community.
An organic vineyard or winery seeks to be gentle to the land. "It can't be just about taking from the earth," says Jonathan Lachs, owner and winemaker for Cedarville Vineyard and Winery, "if we can enhance the natural environment, we not only create a healthy vineyard, we can also craft better wines." Managing vineyard challenges in a less intrusive manner, organic farming fights obstacles with natural alternatives; on these lands synthetic herbicides and mildicides are prohibited. Lachs says, "At the end of the day, it's about understanding our responsibility as stewards of the land."
Another level of holistic practice is biodynamic farming, which supports the inherent natural balance of the environment. The key component of biodynamic farming is the balance of the soil; farmers use compost piles to create natural vine and soil additives that keep the vineyard in equilibrium. Beneficial insects are a key tool for vineyard health. Many of these principles are woven into the area's daily vineyard practices, while others have chosen to become certified. Narrow Gate Vineyards, owned by Frank and Teena Hildebrand, have become a Demeter Certified Biodynamic® farm. "Biodynamic is not about acting or re-acting to one specific issue," explains Frank Hildebrand, "all of the living organisms have an intertwined relationship and we don't want to disrupt nature. We actually want to enrich the vineyard so we can create the best possible wine from our property."
Fish Friendly Farming, spearheaded by the California Land Stewardship Institute in connection with Trout Unlimited, addresses common watershed issues. Operating within the principle that "premium food and wine comes from a pristine environment" the certification program helps restore fish and wildlife habitat and improve water quality. Fish friendly certified vineyards adhere to standards designed to improve the relationship between native and non-native plants and are conscientious of the soil, run-off, and erosion. Nearly all of El Dorado's vineyards are certified Fish Friendly. "Being a Fish Friendly farm is about understanding that our actions greatly affect our water ways. It's another way for us to be accountable for every choice we make in the vineyard. It not only makes us more aware, it actually leads to better decision making," states winemaker Josh Bendick of Holly's Hill Winery, whose vineyards are certified.
Solar power is another example followed by several El Dorado vineyard and wineries. Sierra Vista Vineyard and Winery, Skinner Vineyard and Winery and Fitzpatrick Winery and Lodge all generate solar to reduce their demand from the electric grid at their respective wineries and vineyards. Several member wineries, including Cedarville, Gold Hill Winery, Gwinllan Estate and Saluti Cellars, have elected to store their barrels underground in caves using passive cooling, thus eliminating the need for air-conditioning. These are sensible and long-term decisions based on reducing their impact on the environment.
As a burgeoning wine region, the El Dorado AVA is a cutting edge example of vintners responsibly farming a multi-faceted terrain in order to create permanence for grapevines and quality wines. "For many of us, our parents farmed here and we know our children and their generation will be farming and making wines here after us," says Bush, "We have to be mindful of that balance."
For more information about the El Dorado wine region and Passport Weekend, April 12 – 13, visit http://www.eldoradowines.org. For more information or to request an interview, contact Joel Peterson at Solterra Strategies, 805-610-2204, or email him at Joel(at)solterrastrategies(dot)com.