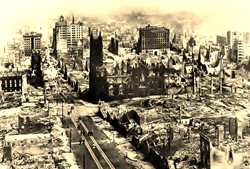 Stay put. Duck, cover, and hold on. -John Dvorak
Los Gatos, CA (PRWEB) April 22, 2014
As spring takes root and 2014 takes off running, WorkSafe Technologies of Northern California looks back at the events that shook California in the month of March. According to the USGS over 200 Earthquakes shook California in March, 2014. WorkSafe takes this as a sign of things to come.
Among the average temblors, two significant March earthquakes caught the nation's attention. The first of which was a 6.9 event the morning of March, 10. Luckily the epicenter was located far enough off shore that there was minimal disruption.
The second earthquake happened in Southern California on the 28th. The 5.1 earthquake's epicenter was relatively shallow, at a depth of 4.6 miles. It was centered about 1 mile south of La Habra, California, and 2 miles west of Brea, California. Although this particular quake was smaller in magnitude then the Northern California quake, since it was land based an estimated 17 million people felt the tremors.
WorkSafe Technologies of Northern California sees these two events as warning signs. "Looking back at the history of earthquakes in California and the fact that California has had only one or two notable earthquakes in the past year," says Swede Ekblom, Non-Structural Seismic Consultant with WorkSafe "tells us that we will experience another sizeable quake soon."
WorkSafe Technologies of Northern California offers tips and suggestions to help you be more prepared when the next sizable quake happens. Store heavy objects closer to the ground, keep exit pathways clear of clutter, make sure hazardous materials are properly secured in appropriate containers, and always be aware of your surroundings. As long as you are prepared and know what to do in the event of a major seismic event, your chances of survival and ability to help others in need are greatly increased.
John Dvorak, a geophysicist who works at a observatory in Hawaii and author of "Earthquake Storms: The Fascinating History and Volatile Future of the San Andreas Fault," warns that a quake break can just be the calm before the earthquake storm. In an interview with Randy Dotinga, a Christian Science Monitor contributor, John Dvorak explains that in the last hundred years California's coast has only seen one significant quake. This earthquake was the 1989 Loma Prieta quake. Yet the previous hundred years to that there were 5 significant quakes culminating with the 1906 San Francisco quake. John also reminds us that the best thing to do when an earthquake hits is "Stay put. Duck, cover, and hold on."
Since there is nothing we can do to stop an earthquake from happening, all we can do is make sure we are ready when it does happen. Contact your local WorkSafe representative for more tips and information on how you can mitigate your seismic risks.