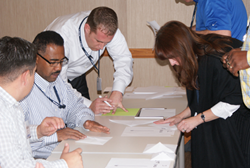 Join LEI's community of Lean Thinkers.
Cambridge, MA (PRWEB) April 14, 2014
The nonprofit Lean Enterprise Institute (LEI) will run a program of 19 lean management workshops in Chicago May 13-16, 2014, in one of its biggest and broadest lean learning session ever.
Five training tracks will feature workshops on how to: apply lean's key concepts and tools, develop people through on-the-job coaching, apply lean problem-solving methods, create an integrated lean management system, and create a culture of continuous improvement.
The workshops will run from 8 a.m. to 4 p.m. at the Hyatt Regency Schaumburg, Chicago, 1800 E. Golf Road, Schaumburg, IL. The schedule is:
May 13
-Gemba Walks - A Management Process for Leading the Organization
-Managing High Mix/Low Volume Organizations
-Managing to Learn: The Use of the A3 Management Process
-Optimizing Flow in Office and Service Processes
-Standardized Work: The Foundation for Kaizen
-The Lean Management System
May 14
-Developing People with Capability for Lean
-Improving Operations in High Mix/Low Volume Organizations
-Kaizen: the Culture of Continuous Improvement
-Key Concepts of Lean
May 15
-New! Coaching for Lean Problem Solving
-Improvement Kata Experience
-Leader Standard Work
-Problem Solving to Align Purpose, Process and People
-New! Value-Stream Mapping: a Methodology for Sustainable System Improvement
May 16
-5S - Visual Workplace
-New! Building Effective Coaching Relations
-Improvement Kata Seminar
-Visual Management
Tuition ranges from $800 to $1,600 and includes all participant materials, breakfast, lunch, and snacks each day. Information about course content, instructors, discounts, and how to register are available by calling (617) 871-2900, emailing the registrar at registrar(at)lean(dot)org or by visiting the Lean Education web at: http://www.lean.org/workshops/workshopcalendar.cfm?cureventid=178.
Lean Community Resources
Join LEI's community of Lean Thinkers at http://www.lean.org to receive newsletters with lean management resources. You also get access to case studies, lean leadership executive interviews, webinars, insights from management experts John Shook and Jim Womack, and much more.
About the Lean Enterprise Institute
Lean Enterprise Institute Inc., a 501(c)(3) nonprofit based in Cambridge, MA, makes things better through lean research, education, publishing, and conferences. Founded in 1997 by management expert James P. Womack, PhD, LEI supports other lean initiatives such as the Lean Global Network, the Lean Education Academic Network, and the Healthcare Value Network. Visit LEI at lean.org for more information.