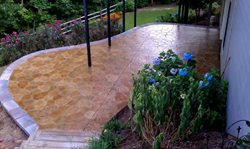 'Design, color and pattern options are virtually unlimited,' explains Lightner. 'Any concrete surface can be turned into a work of art.'
Atlanta, GA (PRWEB) April 23, 2014
All American Decorative Concrete's cutting edge technology for stamped and stained concrete can turn any grey slab of concrete into a work of beauty. They can transform your indoor or outdoor concrete floors to look like travertine, slate, flagstone, or even marble.
John Kostro and Dan Lightner, founders of All American Decorative Concrete, started the company almost 10 years ago because they saw a need for an alternative to costly natural stone. They also felt that the business was ready for a new decorative concrete franchise system. And their concept is bringing life to plain concrete sidewalks, driveways, patios, and basements throughout the United States.
"We specialize in stamped concrete, decorative concrete, and stained concrete. Our work is artistic concrete design," explains Lightner of their unique concept. "We started our business because of the need for people to replace and upgrade plain grey concrete patios and floors. In many instances, customers have an existing slab next to an old one, or the builder only gave them a very small patio and they wanted to expand what they had. The new and old patio never matched and created an eye sore. With our unique decorative concrete overlay system, we can cover both pieces and custom-color and cut a beautiful overlay and simulate the beauty of natural stone."
All American Decorative Concrete Atlanta specializes in stamped concrete, stained concrete, custom overlays and epoxy systems for garage floors. "Design, color and pattern options are virtually unlimited," explains Lightner. "Any concrete surface can be turned into a work of art." Decorative concrete is more cost effective than other types of natural stone and may improve the health of your living spaces. Carpet and other flooring surfaces can create havens for allergens like pollen and dust mites and carpet can emit harmful VOC's.
Right now All American Decorative Concrete is offering a $250 discount to get your home ready for spring with the mention of this press release.
For a Free Estimate: http://aadecorativeconcrete.com/
For Franchise Information: http://www.aacoatingsfranchise.com/
Facebook Page: https://www.facebook.com/decorativeconcretecoatings