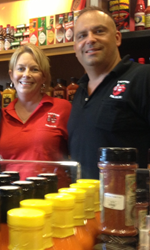 '...we have managed to build a company that has added enjoyment and excitement to many kitchens. Ultimately, Pepper Palace is where fun and sauce collide.' - Craig Migawa, Owner.
Sevierville, TN (PRWEB) April 12, 2014
Pepper Palace Inc., a leading manufacturer and distributor of gourmet sauces, is pleased to announce that 2014 will round out their first quarter century in business and has marked the occasion by unveiling a commemorative 25th Anniversary Hot Sauce. Since opening their first kiosk in Wisconsin in 1989, Pepper Palace has become the #1 spicy themed retailer in the US and Canada offering hot sauces, salsas, dip mixes, wing sauces, marinades, spices and more. There are now over 25 locations that deliver this unparalleled shopping experience with a spicy and exciting atmosphere to customers who are invited to taste over 100 products featured on their sample bars.
Pepper Palace Inc. was founded by former Army Veteran and steel worker Craig Migawa and his wife, Tanya. With an interest in hot sauce and the motivation to start their own business, a hot sauce kiosk in Appleton, a small Southeastern Wisconsin mall is where it all began. What first came as an experiment, soon turned into a full time occupation. Eight years later, they moved their family to Gatlinburg, TN to open a proper retail location that ensured millions of visitors. Consistent increase in business led to two different Gatlinburg relocations to better retail sites. Soon after, the Migawas introduced their warehouse and distribution center just before they opened a second, The Village in Gatlinburg, and a third in Myrtle Beach. Over the past 5 years, 25 stores have opened and additional prospects are aligned monthly. Other Pepper Palace locations include New Orleans, Myrtle Beach, Chicago, Niagara Falls, and several Florida stores.
Initially, Pepper Palace solely focused on hot sauces and salsas. Today, Pepper Palace, Inc. manufactures and distributes over 1,200 products and continues to improve and impress as certain tastes trend from year to year. To date Pepper Palace has won hundreds of National Awards for product, marketing and flavor. A privately held corporation, Pepper Palace remains a family owned and operated business. Pepper Palace is the #1 place for hot sauce, salsa, wing sauce, jellies, fruit butters, barbeque sauce, infused olive oils & balsamic vinegars, spices, dip mixes, rubs, and other pepper-themed gifts...from meek and mild to scorchingly insane.
The persistence and risk included in this entrepreneur's vision has resulted in a globally recognized, industry leader. "Over the years, we have managed to build a company that has added enjoyment and excitement to many kitchens. Ultimately, Pepper Palace is where fun and sauce collide. If we aren't having fun, we adjust our direction," said Craig Migawa, founder and CEO of Pepper Palace Inc. "Though there are many factors which have attributed to our success, underlying them all is our unwavering commitment to meet our customers' needs," Migawa continued. "This aspect positively affects both our customers and our company as a whole."
To commemorate the company's 25th anniversary, Migawa and his team has released a special edition 25th Anniversary Sauce in a beautiful pepper shaped bottle decorated with a commemorative custom lapel pin. The bottle holds a heated mixture of Scorpion, Jolokia, and Habanero peppers.
Stop into one of the four local Pepper Palaces to try products on the extensive sample bar. These locations include: Gatlinburg, TN; Knoxville, TN; Pigeon Forge, TN; Mall of America, MN; Charleston, SC; Gelndale, AZ; Scottsdale, AZ; Nashville, TN; New Orleans, LA; Panama City Beach, FL; Sarasota, FL; St. Augustine, FL; Branson, MO; Myrtle Beach, SC; National Harbor, MD; Niagara Falls, Canada; Rogers, AR; and 3 Chicago locations. Stay in touch with Pepper Palace's latest news and developments by signing up for the company's newsletter and visiting http://www.pepperpalace.com.