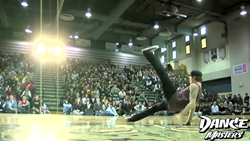 Hollywood, California (PRWEB) April 10, 2014
The Dance Masters™ provide an unforgettable combination of education & entertainment that can only be described as high-energy, thrilling, jaw-dropping, and inspiring.
The Dance Masters is an hour-long extreme dance and acrobatic assembly showcasing thrilling feats of strength, agility, and balance. The Dance Masters utilize a perfected balance of entertainment and education to motivate students to reach their goals, make healthy choices, overcome adversity, and bring cross-cultural unity through dance. The Dance Masters incorporate teachers and students into their assemblies by utilizing them during their performance. The show is unique in being able to target middle and high school audiences.
The Dance Masters' message is simple: To achieve their goal, students must respect themselves and their education by staying in school, working hard, avoiding alcohol, drugs, and embracing unity, peace, and respect over violence and bullying.
The Dance Masters are extreme acrobats, gymnasts and break-dance entertainers featured in today's most recognizable television shows, current music videos and blockbuster motion pictures. These performers come from all walks of life, but their message is the same: focus on your goals, avoid unhealthy lifestyles and dedicate yourself to fulfilling your dream.
The Dance Masters was first established in 2002 after Jarrod Taylor, a beloved Los Angeles Unified English and History teacher, began noticing a frightening trend amongst youth; one of violence, selfishness and apathy, along with poor mental & physical health. This coupled with the growing trends of bullying, alcohol & drug abuse, lit a fire in the furnace of change inside of Jarrod Taylor.
Jarrod felt compelled to use his major ties to the celebrity dance community and educational community, to showcase wholesome, real role models and make a powerful, inspirational impact on his student audiences. By using world famous performers who students & parents instantly recognize and fully respect, Jarrod reaches and teaches hundreds of thousands of students a year. Jarrod has created, directed and hosted the Dance Masters show for over 10 years. Visit the Dance Masters and support the effort of promoting healthy lifestyles.
Visit http://dancemastershows.com/ for more information or call (800) 610-5570 to book the Dance Masters.