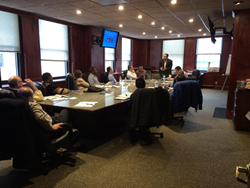 Albany, New York (PRWEB) April 14, 2014
Commercial Capital Training Group is proud to announce that a new innovative lender has joined Commercial Capital Training Group's growing list of lending institutions that present and do business with entrepreneurs that take it's 7 day intensive training program. This particular lender offers Lines of Credit against Commercial Real Estate. This program is perfect for developers or real estate investors that are looking to leverage their existing portfolios to complete or start other projects. "We have not seen this product in the market place post the 2008 market crash" stated Kris Roglieri, President and Founder of Commercial Capital Training Group. Roglieri went on to say, "In the first two months of us exposing this lender to our nationwide database of graduates, the lender has closed 3 deals and many more on the way.
This product will suffice the needs of a very underserved area in commercial real estate finance. The attractiveness of product is that credit and financials are not really considered but rather the value of the property that is being collateralized for line of credit.
The graduates of the Commercial Capital Training Group enjoy generous commissions that this particular lender pays on referring transactions over to them. Depending on the transaction amount graduates can earn up to $35,000 per transaction.
Commercial Capital Training Group has been the industry's premier training organization which has been featured in Forbes, Entrepreneur Magazine, Fox Business News, Bloomberg and many other news organizations.
For more information please visit their website at http://www.CommercialCapitalTraining.com or call 518-694-3047.