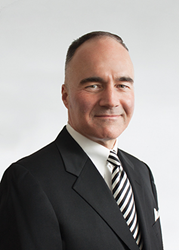 "When you see a custom Lighted Mirror being built for the first time, one that has a television that disappears into the mirror, you realize that these are technological works of art."
Seattle, Washington (PRWEB) April 12, 2014
Electric Mirror®, the global leader in lighted mirrors and mirror TVs is pleased to announce the hiring of its new Chief Operating Officer, Donald Jacques, who was recruited to steer the company through its next phase of expansion.
Jacques brings with him many years of experience managing operations and a wide range of business functions. "I've worn a lot of hats and had a hand in operations, finance, engineering, sales, and most other elements of business." He has a degree in engineering from the University of Rhode Island, a master's degree from Colorado State University, earned his MBA from the University of Washington's Executive Program while at Weyerhaeuser, and served nine years as Chief of Operating and Chief Financial Officer for MagnaDrive Corporation in Woodinville, Washington. Prior to joining Electric Mirror, Jacques served as a C-level consultant for numerous small to medium-sized technology businesses.
Jacques, who was initially brought in as a consulting COO with Electric Mirror last December, said he was excited about the company from the first time he walked through the door. "When you see a custom lighted mirror being built for the first time, one that has a television that disappears into the mirror, you realize that these are technological works of art."
Jacques believes that Electric Mirror's phenomenal growth, jumping 50 percent in the hospitality market and almost 60 percent in residential in the past year, is only the beginning. Products from lighted mirrors and mirror TVs; to enhancements such as Vive™, the first and only Bluetooth® enabled smart mirror, and Keen™, energy savings with a touch; to new launches being planned in the months ahead will be redefining the company's position both in the United States and abroad. "The company's future scope will not only diversify Electric Mirror but give it much more breadth and depth in domestic and global markets," said Jacques.
Focusing attention on the details that made Electric Mirror the global leader will be his primary emphasis. "We are reviewing and re-energizing procedures in all departments – design, engineering, purchasing, scheduling, assembly, customer service, and customer support."
"The hospitality industry is always a focus for Electric Mirror but there are other incredible markets to be expanded into," said Jacques, adding, "Health care and other commercial facilities today are drawing on our expertise to help them create designs that provide a hospitality-like experience."
About Electric Mirror
Electric Mirror is the leader in lighted mirrors and mirror TV technology serving the hospitality, healthcare, commercial, and residential industries for more than 16 years. This family-owned and operated company began in a garage where the first high-end defogging mirror was pioneered. An American success story, Electric Mirror continues to lead the market in design and innovation, holding more than 32 patents with dozens more pending. Product lines include a wide variety of modern lighted mirrors, mirror TVs, waterproof TVs, mirrored cabinets, corridor lighting, and makeup mirrors. Electric Mirror is the industry standard for major luxury hotel chains and has a reputation for product innovation, customization, and made-in-the-USA quality. Electric Mirror is on the forefront of eco-friendly manufacturing with its Beautiful World™ Initiative: To reduce carbon footprints by producing the most energy-efficient and longest-lasting products in the world. The company headquarters and factory are located just north of Seattle in Everett, Washington.
Learn more about Electric Mirror by visiting http://www.electricmirror.com. To request a quote for Electric Mirror products, please contact sales(at)electricmirror(dot)com or call 425.776.4946.
###