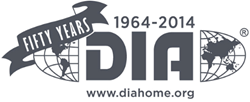 "This symposium embodies our approach by uniting diverse perspectives to better inform our members of how to bring orphan medicines to patients."
Washington (PRWEB) April 10, 2014
"Regulatory Challenges for Orphan Medicines," a symposium that features presentations by a number of industry experts, will take place during the DIA 2014 50th Annual Meeting at the San Diego Convention Center from June 15 to 19.
The symposium, held June 18 at 3:30 p.m., will focus on the regulatory environment and trends for orphan medicinal products around the world. Discussions will also include how companies can use the orphan drug legislation in Europe and the U.S. to support development of these products for markets outside of International Conference on Harmonisation regions.
"Our annual meeting is a global platform that offers holistic and integrated approaches for the life cycle management of regulated health care products," said Barbara L. Kunz, DIA global chief executive. "This symposium embodies our approach by uniting diverse perspectives to better inform our members of how to bring orphan medicines to patients."
The symposium includes an industry perspective of the regulatory challenges and opportunities for global development of orphan medicinal products given by Martine Zimmermann, vice president of global regulatory affairs for Alexion Pharmaceuticals, Inc. Isabel Zwart, senior regulatory consultant for Parexel, will discuss the role of orphan drug legislation in emerging markets, and Dr. Jordi Llinares, head of product development scientific support for the European Medicines Agency, will conclude with his perspective of the regulatory challenges for orphan medicines.
ABOUT DIA: DIA is the global connector in the life sciences product development process. Our association of more than 18,000 members builds productive relationships by bringing together regulators, innovators and influencers to exchange knowledge and collaborate in an impartial setting. DIA's network creates unparalleled opportunities for the exchange of knowledge and has the interdisciplinary experience to prepare for future developments. DIA is an independent, nonprofit organization with its global center in Washington, D.C., USA; regional offices covering North and South America (Horsham, Pa., USA); Europe, North Africa and the Middle East (Basel, Switzerland); and Japan (Tokyo), India (Mumbai) and China (Beijing). For more information, visit http://www.diahome.org.
ABOUT DIA's 2014 50th ANNUAL MEETING: Celebrate the Past – Invent the Future is the largest multidisciplinary event that brings together a community of life sciences professionals at all levels and across all disciplines involved in the discovery, development and life cycle management of medical products. The meeting aims to foster innovation that will lead to the development of safe and effective medical products and therapies for patients. For more information, visit http://www.diahome.org/dia2014.