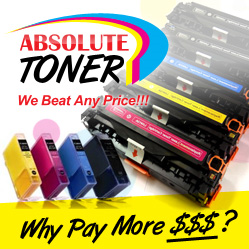 Points are earned on every purchase and can be redeemed for discounts at any time.
Toronto, Ontario (PRWEB) April 15, 2014
Those looking to save money on toner for the five different models of Brother printers will find their bank accounts looking a little healthier. Absolute Toner, a Toronto-based company that sells toner, printers, and copiers, now offers compatible ink cartridges for the Brother MFC-J4310DW, Brother MFC-J4410DW, Brother MFC-J4510DW, Brother MFC-J4610DW, and Brother JFC-J4710DW. These cartridges are fully compatible with the printers. View compatible ink cartridges on Absolute Toner here, http://www.absolutetoner.com/brother-ink-cartridges/1221-brother-lc107-lc105-ink-cartridges-compatible-combo.html.
Ink cartridges produced by brand name companies are often very expensive, and that's certainly true for Brother printers. Brand name cartridges can be quite costly, especially when all four cartridges have to be replaced at once. These compatible cartridges offer customers a comparable and even superior alternative. Shopping on Absolute Toner provides a discount because the site discounts printer ink cartridges and toner by anywhere from 50 to 90 percent of the original costs. Very few competitors are able to offer their customers great discounts and high quality products.
Customers shopping for ink for the five Brother printers listed above will be able to purchase any of the four different color cartridges used by the printers. The cartridges are available individually or as a set of all four colors, including black (LC-107BK), cyan (LC-105C), yellow (LC-105Y), and magenta (LC-105M). The black cartridge is a high yield ink cartridge and will print up to 1,200 pages before it needs to be replaced. The other three have a yield of up to 600 pages, depending on how much and what shade of color is needed.
These cartridges are completely compatible and safe for use in the Brother printer models listed above without fear of damaging the printer head or producing low-quality printing. They're created using the same methods that create the original cartridges, and the level of technology used guarantees that they will produce excellent print quality without any drop in the level of safety. Absolute Toner is able to promise this because of how they produce replacement ink cartridges. Instead of attempting to create a one-size-fits-all cartridge that can be used in a wide number of printers, the company manufactures compatible cartridges designed for specific printers. These cartridges fit perfectly in the printer, whereas the more generic cartridges may not.
In addition to offering some of the best printer cartridges and toner online, Absolute Toner also offers repeat customers great savings and other deals via the Buyer Rewards Points program. These points are earned on every purchase and can be redeemed for discounts at any time. Absolute Toner also gives customers a lifetime guarantee on every product sold. Customers have praised the company's easy to use website, lightning fast shipping, and the outstanding customer service.
About Absolute Toner:
Based in Toronto, Absolute Toner has been providing replacement cartridges to individuals and customers for many years. These replacement cartridges match or exceed the quality of the original brand cartridges, but cost only a fraction of the price. Visit http://www.absolutetoner.com to learn more about using compatible ink in printers and to purchase products.