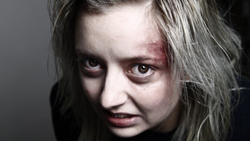 Los Angeles, CA (PRWEB) April 15, 2014
This month NewFilmmakers LA film festival will demonstrate its focus as a platform for independent filmmakers by showcasing a feature film created by a production team based out of Oklahoma.
Fall Films was established in Oklahoma in 2009 and has since then produced 13 feature films, all with a budget of three thousand dollars or less. Fall Films has a grass roots following in Oklahoma, and NFMLA hopes to bring their popularity to Los Angeles.
More information about their film Tarsus, and the other short films that will be shown during the NFMLA film fest on April 19th at the AT&T Center in Downtown LA is included below.
TARSUS – Director Mickey Reece
Patricia Peters is a piece of damaged goods fresh off a five-year prison stay after taking a fall into methamphetamine addiction. Patricia goes to Narcotics Anonymous after her release, but her support system is membrane-thin. Her sponsor Johnny McQuire has precious little willpower of his own, and it hardly helps that the two find each other just in time to hold hands and jump back into the abyss.
With a micro budget, this film directed by Oklahoma native Mickey Reece has already been accepted to 7 film festivals including the Uptown Film Festival in Michigan where Mickey Reece received an award for Best Director and star Rebecca Cox took home the Best Actress award. Tarsus also won the Platinum Reel Award at the Nevada Film Festival.
CLUB MAGIC MOMENT – Director Zachary Volker
Unemployed and desperate, Bill Ellis pays an eccentric criminal a large sum of money for a job opportunity. As a last-ditch effort to turn his life around, Ellis plots a daring heist at an underground suburban casino to get the money back.
In 2011, director Zachary Volker was awarded the Rooftop Films Short Filmmaking Fund Grant to make Club Magic Moment. It stars Adam Harrington who can be seen on shows such as It's Always Sunny in Philadelphia, Parenthood, and Scrubs. Alongside Adam stars Jeremy Holm (What Would You Do, Law and Order), Bobby Lamont (Smash, Shadowboxing), John Weigand (The Immigrant, Virgin Alexander), and James Dybas (Miami Vice).
COMING OUT – Director Taylor Gahm
Tanner's coming out of the closet takes an unexpected turn, testing the limits of love and acceptance by his family.
Besides screening at this month's NFMLA festival, Coming Out has been selected to screen at the Crossroad Film Festival, Kansas City Film Fest, and Boston LGBT Film Festival. It also recently won an award for Best Cinematography at the Houston WorldFest. Coming Out is Taylor Gahm's directorial debut.
LAST STOP IN SANTA ROSA – Director Elizabeth Lo
An elderly couple who runs a hospice for dying animals questions the ethics of pet euthanasia. Old animals that would have normally been put down are given a chance to live out the rest of their lives - but they must also endure the trials of aging. Through the struggles of a blind shepherding dog, and a wheelchair-bound Chihuahua, difficult questions come to the fore: were these elderly, disabled animals meant to live?
Through this documentary film Elizabeth Lo hopes to evoke questions about what it means to induce death or prolong life. Besides directing Elizabeth has also produced various television documentary series including OWN's Our America with Lisa Ling.
LUNA – Director Antonio Perez
In a remote, desolate town, a cold-blooded serial killer invades a family's quiet home. The sole survivor of his latest crime is a young girl, who does everything she can to escape before the mysterious stranger finds her.
Luna premiered at Screamfest in October 2013 where it won the award for Best Short Film. Since then it has played at the Sacramento Horror Festival and the Hollywood Horror Festival where it won for Best Cinematography. Los Angeles based film director Antonio Perez's also co-wrote the feature length version of his short film The Raven, which Universal will produce with Gerard Butler attached to star.
SURPRISE – Director Leslie Bumgarner
Starring Academy Award nominated actress Tess Harper (Crimes of the Heart), this film is about a mother and son who confess their secrets. Tess can recently be seen in hit shows such as True Detective, Breaking Bad, and Revenge.
THE BEST FRIEND – Director Melissa Sadoff Oren
The quintessential best friend in a romantic comedy must ditch the sidekick role and finally become the star of her own life.
Lead Kim Shaw is best known for her work in She's Out of My League, Did You Hear About the Morgans, and guest star appearances on Anger Management, Two and a Half Men, and How I Met Your Mother.
THE CHICKEN SUIT – Director A.K. Hottman
A dark comedy about a man going on the run from a loan shark in order to protect his girlfriend from the disaster he's created. All while wearing a chicken suit.
WE'RE HAVING SEX – Director Michael Callahan
In an effort to save their sex-starved relationship, David and Kate decide to raise the stakes: have sex that night or break up.
BIGGER –Director Chad Fisher
The girl of Jim's dreams needs…more. Said penis enlargement surgery costs five-thousand dollars more than Jim can afford yet.
LOVE THY NEIGHBOR – Director Minho Ha
'Love Thy Neighbor' is the story about a young African-American boy, Ben, and a Korean woman, Jinsook, forming a friendship leading up to the 1992 L.A. riots.
Located in Downtown LA, AT&T Center is the Presenting Venue Sponsor of NFMLA. Founded in 2007, NFMLA has screened over 750+ films from over 43 countries. NFMLA boasts over 20,000 supporters locally. The organization provides a forum where filmmakers can be recognized with title supporters Sony Pictures Entertainment, Wells Fargo, SAG-AFTRA and LA Weekly.
For information and to purchase tickets to the NewFilmmakers LA April 19th screening, please visit http://www.newfilmmakersla.com/.