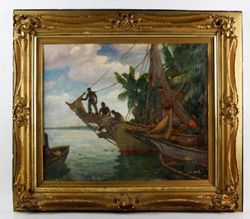 Beverly, MA (PRWEB) April 14, 2014
From furniture to fine art, the upcoming 20th Century and Modern Design auction at Kaminski will offer exceptional items for all collectors. Important artists including Giacometti, Chihuly, Thieme, and Soyer will headline Session I, along with other high-end furnishing and decorative items. Session II will present a portion of the famous New York Rosenthal collection of African art and artifacts, assembled over the course of a lifetime by Mr. Milton and Mrs. Frieda Rosenthal.
A small sculpture of a horse by artist Swiss artist Diego Giacometti has already enticed bidders while on display in the Kaminski booth during the New York Pier Show. The rough and undulating surface texture of the bronze animates the static figure, giving it a presence much larger than its small physical size. Many collectors were excited to see the piece at last month's Pier Show, and Kaminski expects it to fetch between $7,000 and $10,000 at the auction.
Other sculptural works in the sale include two striking abstract glass forms by artist Dale Chihuly. Delicate horizontal lines in black contour the fluid bowl-like orange shapes of the sculpture, interrupted only occasionally by larger spots of black or white glass. Together, these unique pieces are estimated at $3,000 to $5,000.
Alongside this piece, Kaminski will offer Ernest Trova's "Walking Jackman" chromed steel sculpture. The sculpture visually plays out the pun suggested in the title, with striding male figures joined at the feet to form the shape of a jack. A copy of Trova: Second Edition published by the Trova Foundation accompanies the sculpture and features the piece among the illustrated works. Many Florida residents will recognize this piece as the full size sculpture in front of the Philharmonic Center for the Arts Naples Museum in Naples Florida. Kaminski has estimated the piece at $5,000 to $6,000.
Decorative items to be offered include a small collection of Beatrice Wood ceramics. The California born artist had an early stage career in both New York and Montreal, but ultimately found her calling in pottery during the 1930s. She became quite popular shortly thereafter for her naïve and explorative ceramic forms. The pieces at Kaminski reflect this sensitivity with their irregular shapes and thick glazes. Presented in two consecutive groups, the offerings include a red earthenware bowl and jar in a viscous pink glaze, and a three footed ceramic censer coated in a matte grey. The small lot of ceramics is estimated at $400 to $600, and censer carries an $800 to $1,200 estimate.
Among the fine furniture pieces included in the sale are a George Nelson for Herman Miller grandfather clock, and a Milo Baughman sofa. The clock, made of smoky Lucite, features a white face with red details and a striking mirrored panel behind the pendulum and weights. It is estimated to bring in between $500 and $700. The Milo Baughman sofa carries an estimate of $1,000 to $1,500 and exhibits the original black vinyl upholstery atop a sleek and minimal mahogany base.
In addition to these furniture and decorative items, Kaminski's upcoming auction will also feature an impressive collection of fine art from various estates. One such piece is a work by artist Anthony Thieme. Thieme is well known, especially in the local area, as a North Shore artist, but also made trips to the tropics to paint and observe the life and landscape. The example of his work offered at Kaminski is one of those based on his travels. Titled "Nassau Boats," the painting depicts sailors working aboard a ship backed by a tropical island with the distant expanse of the sea just visible beyond. Thieme's paintings have commanded high prices in the Northeast and throughout the country, and Kaminski experts have valued "Nassau Boats" at $40,000 to $60,000.
A selection of these top lots is now available to view online at Kaminskiauctions.com; with a full online catalog available April 25th. Preview for the sale will be held Wednesday through Friday, May 7th through May 9th at the Kaminski gallery in Beverly from 10:00am to 5:00pm daily. The auction will take place Saturday, May 10th at 10:00am, with online bidding available through the Kaminski LIVE bidding platform.
KAMINSKI
Kaminski Auctions, located on the North Shore of Boston, has been serving the New England antiques market for over 25 years as a full service auction house and appraisal service for fine art, antiques and estates.
With two locations in Beverly, Massachusetts, including a new state of the art auction gallery located at 117 Elliott Street, and a historic 1850's barn and office facility at 564 Cabot Street, Kaminski Auctions hosts 25 auctions a year.
In today's highly competitive market of fine art and antiques, Kaminski Auctions provides its customers with bicoastal services and marketing with west coast offices in Beverly Hills and San Diego, California.
Kaminski Auctions offers specialty departments in Asian Art and Antiques, Silver, Glass and Lamps, Couture and Vintage Clothing, Photography and Modern Design . We have highly trained and knowledgable appraisers on staff that will help you determine the true value of your antiques, or entire collections. Free Appraisal days are offered every Tuesday from 10:00am-4:30pm at 117 Elliott Street in Beverly, Massachusetts & by appointment at our San Diego and New York City locations. We welcome emailed photos of your items! Contact consignments(at)kaminskiauctions(dot)com.
We would like to thank all of our customers, consignors and friends for voting Kaminski Auctions #1 Best Auctioneer on the Northshore - Reader's Choice Award! "Kaminski has earned its gold-star reputation by serving the New England antiques market for over 25 years. Specializing in the sale of Asian art and antiques, silver, glass and lamps, couture and vintage clothing, photography, and modern design, the full-service auction house provides expert appraisal services. From its Beverly art gallery and historic barn comes a wealth of experience with fine art, antiques, and estates values." - Northshore Magazine