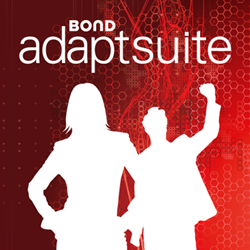 Atlanta, GA (PRWEB) April 14, 2014
Bond International Software, the global recruitment, HR and Payroll specialists, announce the release of Bond AdaptSuite recruiting and staffing software Version 2.5. This latest version includes new features designed to expand the efficiency, flexibility, and control of the day-to-day operational processes related to staffing and recruiting front-office, temporary employee payroll, and customer billing.
In the business of staffing and recruiting, having the ability to quickly and accurately respond to the needs of clients regarding their job orders and assignments is critical to providing consistently superior customer service. Well-known for its speed and efficiency, Bond's AdaptSuite staffing and recruiting software expands on its world-class capabilities in this newest release.
In front office recruiting, Bond AdaptSuite users can save time and effort with the new Mass Rate change that enables the user to update the pay and/or bill rates for multiple assignments at once.
Additionally, a staffing and recruiting company may often have various default communication templates that they use for requesting resumes or sending other communications to their contacts or candidates. Offering greater flexibility, Bond AdaptSuite now provides user-defined templates that allow users to set the default text and merge fields for each of their email and letter templates. This saves valuable time in getting information directly to candidates or clients. Further, in conjunction with AdaptSuite's powerful integration with MS Outlook, all communications are logged as journal entries to provide visibility for the whole team regarding the communication trail for each record.
Back-office productivity is improved as well with Bond's AdaptSuite. A staffing and recruiting company's financial administrator can now tailor multiple invoice templates based upon the end client's needs. If a staffing and recruiting company operates under multiple corporations or tax groups, the custom check templates can be individually branded and linked to the specific bank account for that corporation.
Lastly, AdaptSuite's online Web Portal has been enhanced to offer customers the ability to view invoices, while temporary employees can securely review their payroll check history. This gives both customers and employees more flexibility to immediately access their information on the Web.
Steve Taylor, Bond International Software Inc. President and CEO noted that "Bond's AdaptSuite recruiting software advances with each new release. We enable our customers to employ world-class best practices throughout their organization that are proven time and effort savers. By implementing AdaptSuite's cloud-based solution, staffing and recruiting companies can achieve significant operational efficiencies that help them to improve customer service response and their own bottom-line profitability."
For more information on Bond AdaptSuite recruiting and staffing software or to schedule a demonstration, visit http://www.bond-us.com or call 800-318-4983.
###
About Bond International Software PLC (UK, AIM: BDI)
London stock-market listed Bond International Software has been a global provider of Recruitment, HR and Payroll software & services for 40 years.
Bond is one of the largest, and most established, global specialists in staffing software for recruitment agencies worldwide and is a rapidly growing provider of web-based e-recruitment and talent acquisition software to the corporate market. Bond also provides established HR and payroll outsourcing services and software directly to both the public and private sectors. For more information please visit http://www.bondinternationalsoftware.com.
Bond International Software, Inc. is the U.S. operating company for Bond, with headquarters in Atlanta, Georgia and offices in Richmond, Virginia and Bloomington, Minnesota. The Bond U.S. operations, with more than 100 employees, support nearly 800 customers and 20,000 users. For more information please visit http://www.bond-us.com.