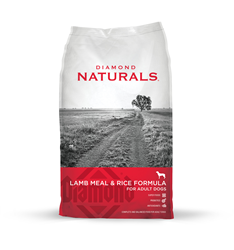 Meta, MO (PRWEB) April 14, 2014
Diamond Pet Foods has reformulated the entire Diamond Naturals brand pet food line by adding proprietary probiotic technology and super foods to each formula. Diamond Naturals now features new packaging designs, and is available at independent pet stores, and farm and feed stores across the country.
Key to the reformulation is the addition of proprietary probiotic technology. Probiotics help pets digest food more efficiently and promote a healthy immune system. Through extensive research and proprietary technology, Diamond Pet Foods developed K-9 Strain Probiotics™ for dogs and Viable Probiotics™ for cats. Like humans, dogs and cats have both "good" and "bad" bacteria in their digestive systems. Probiotics, or "good" bacteria, help maintain a healthy balance.
K-9 Strain Probiotics is the only canine specific probiotic available in a dog food formula. Developed from bacteria strains naturally found in the canine GI tract, it helps reduce the risk of irritation and allergic reaction. Excess bad bacteria in the GI tract can lead to digestive issues. In the past, probiotic supplements often included beneficial bacteria from a variety of sources but have not been canine specific.
"The probiotics we use at Diamond Pet Foods are added after the cooking process so the beneficial bacteria are not killed," explained Mark Brinkmann, vice president of operations, Diamond Pet Foods. "For maximum benefit, the probiotic must be alive and viable."
Diamond Pet Foods guarantees that for every kilogram of food, 220 million live cultures make it into the pet's system.
As part of the company's proprietary technology and comprehensive food safety system, K-9 Strain Probiotics and Viables Probiotics are processed under strict human-grade standards, which are higher than required in pet food production. Each strain is purified and guaranteed to be free of harmful pathogens or other potential contaminants.
Super foods nutritional benefits
Super foods also have been added to all Diamond Naturals formulas. Super foods are natural foods that are particularly high in nutritional value and are sources of key nutrients such as antioxidants, vitamins, minerals, fatty acids and proteins.
Kale, chia seed, pumpkin and blueberries are examples of super foods added to the 12 dog and three cat Diamond Naturals formulas.
"Our veterinarians and nutritionists ensure the right combination and amount of super foods are included in the formulas to ensure pets receive optimum nutrition," added Brinkmann.
For information on where to purchase Diamond Naturals, go to http://www.diamondpet.com.
©2014 Diamond Pet Foods. Diamond and the Diamond design and Diamond Naturals are registered trademarks and K9 Strain Probiotics and Viables Probiotics are trademarks of Schell & Kampeter, Inc. All rights reserved.
About Diamond Pet Foods
Founded in 1970, Diamond Pet Foods is a family owned and privately held company. As a leading manufacturer of pet food, Diamond Pet Foods provides a complete range of proprietary and private label products manufactured in four state-of-the-art and safety-certified facilities across the country. Our mission is to make premium pet food affordable because we believe every pet deserves the very best. For more information, visit http://www.diamondpetcompany.com.