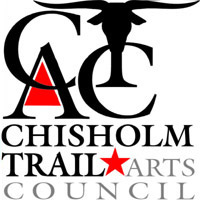 Duncan, OK (PRWEB) April 15, 2014
The Chisholm Trail Arts Council is having an art contest for the 2014-2015 playbill cover for their CTAC Live Concert Series. This contest is available to all artists/students/ citizens in the Stephens County area of all ages.
All artwork must be an original piece, using any form of medium, that can be easily reproduced into printable form. Please include: Name, Age, Address, Phone, Email, School (if applicable), a brief description of the art piece, and medium used.
Deadline for all artwork is June 1, 2014 and will be voted on by CTAC Board Members. First Place winner will have their artwork printed on the front cover of the 2014-2015 CTAC Live Concert Series playbill. Additional entries will be used within the playbill, or other forms of promotion, as space will allow.
Please call or email Darcy at the CTAC office for application and further details at 580.252.4160 or director(at)chisholmtrailarts(dot)com.