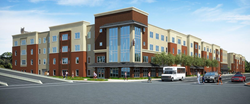 We look forward to welcoming The Depot residents into their new home come August.
Akron, Ohio (PRWEB) April 11, 2014
The Depot, Akron's newest luxury student housing community has already significantly improved downtown Akron, taking the place of the old Akron Beacon Journal newspaper storage and sorting facility and transforming it into a home for 624 Akron students.
Construction continues on schedule and will be completed for residents to move in August of 2014. Interest and excitement for the amenity-rich student community continues to grow; currently, The Depot is "sold out" of its one-bedroom floorplans and has limited availability for its two- and three-bedroom floorplan options.
The 624-bed, four-story luxury student housing community is located on 80 East Exchange Street, just across the street from the University of Akron campus and less than a quarter mile from the temporary leasing office located at 446 East Exchange Street. Residents can choose from a variety of one-, two-, three- and four-bedroom floorplans, all leased by-the-bed, so each resident will only be responsible for his or her individual rent instead for the rent of the entire apartment.
Developed by Cleveland-based NRP Group, The Depot will feature a resort-style heated pool with an outdoor bar and kitchen, lounge areas, on-site concierge, modern clubroom, on-site mini market, indoor gas fireplace, game room with pool table, foosball, tabletop shuffleboard and arcade games, as well as a large group fitness classroom and two state-of-the-art fitness facilities.
Residents will have access to a conference room with projection capability for group projects, group study areas with white boards, private study nooks and a media lab featuring a mix of Apple computers and PCs and a commercial-grade printer. Each apartment comes standard with granite countertops, in-unit washer and dryer, walk-in closets, contemporary furnishings and a 42-inch flat screen television.
Despite the winter weather challenges, construction of The Depot remains steady and on schedule. Interested students are now able to take "hard hat" tours and visit the model unit located at the construction site. Tours are scheduled by calling the leasing office and walk-in tours are available Monday through Friday from 11 a.m. to 6 p.m., Saturdays from 11 a.m. to 4 p.m. and Sundays from 12 p.m. to 4 p.m. Those attending walk-in tours should park in the Charter One Bank parking lot across the street and call the leasing office upon arrival at (234) 738-0080. Due to active construction, The Depot management staff meets tour groups in the parking lot and provides hard hats to wear.
"Our construction team is led by some of the most experienced construction professionals in the state. Needless to say, they are well-equipped to meet deadlines despite adverse weather conditions," said Aaron Pechota, vice president of development at The NRP Group. "We look forward to welcoming The Depot residents into their new home come August."
NRP is the eighth largest multifamily developer in the nation and was awarded The National Association of Home Builders "Multifamily Development Firm of the Year" award in 2012. The Depot is managed by Asset Campus Housing, the largest management and privately held student housing company in the U.S.
For more information, please visit http://www.depotatakron.com or call 234-738-0080.
The NRP Group LLC: Developer, Builder and Management Company
The NRP Group is a fully integrated, premier multifamily developer, general contractor and property management company dedicated to producing exceptional results for clients and investors.
Founded in 1995 by Alan F. Scott, T. Richard Bailey and J. David Heller, NRP has developed and constructed over 21,000 residential units in fourteen states over the past 18 years, with a strong presence in Texas, Florida, North Carolina, Ohio, Michigan, Virginia, Indiana, New Mexico and Arizona. NRP Management is a full-service property manager with over 12,000 luxury, family and senior rental units encompassing nearly 100 properties managed in 11 states.
The NRP Group has 500 employees nationwide with offices in Cleveland, Houston, Orlando, Raleigh, San Antonio, Detroit, Phoenix, Buffalo and Tampa. For more information, call 216-475-8900 or visit http://www.nrpgroup.com.
About Asset Campus Housing (ACH)
Headquartered in Houston, Texas, Asset Campus Housing, Inc. (ACH) is an affiliate of Houston-based Asset Plus Companies, a third party property management firm specializing in real estate services for investors, developers, and owners. Asset Campus Housing manages a student housing portfolio of more than 100 properties, exceeding 65,000 beds located throughout the United States.