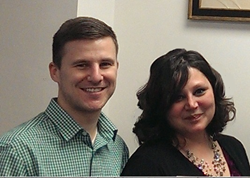 Mr. Roshko and I are honored for the opportunity at hand to provide exceptional care and services to our patients and the community.
Palatine, IL (PRWEB) April 11, 2014
Hope Palliative & Hospice Care proudly announced the appointment of 3 new leaders in their Administration. The hospice group cites partnership and new initiatives to be the driving force behind the recent change.
"This change will bring about cohesion and collaboration with our parent company, Healthcare Plus Corporation and it affiliates, and provide a consistency of care for our patients who would benefit from the support of hospice care," says Maria Isabel Turtogo-Sacay, RN.
Maria Isabel Turtogo-Sacay, RN has cared for patients as a hospice nurse as well as in her role as Administrator for Healthcare Plus, a Medicare certified home health agency in the Chicagoland and Rockford areas. Ms. Turtoga-Sacay completed her nursing degree at the University of the Philippines in 1987. She has been the Administrator of Healthcare Plus for 12 years and sits on the board of directors for both Healthcare Plus and Hope Hospice. Ms. Turtogo-Sacay also serves as a board member of the Association of Certified Home Health Agencies in Illinois and serves as a consultant in the State of Illinois on several matters in the healthcare industry.
Angela Click, CNA will also be changing her role with Hope Hospice. Ms. Click will serve as the Assistant Administrator. After earning her CNA license, Ms. Click has worked in a diverse range of health care settings including immediate care, skilled nursing facilities, as well as an Activities Director and Memory Care Coordinator for assisted living facilities. Ms. Click began her journey into hospice care in 2006 first leading a team of CNAs to becoming the Director of Clinical Services. "It is incredible to see the level of dedication Ms. Click has. She is an overachiever in all aspects of HOPE whether it is direct patient care, management, thinking outside the box or innovative technologies. I am amazed in the tools and resources she can provide to the team to ensure we are successful in our careers." stated Alex Roshko.
Alex Roshko, RN will now serve as the Director of Clinical Services for Hope Hospice. Mr. Roshko earned his RN degree from Triton College. After working in the home health arena, he began working in hospice care. "Mr. Roshko brings with him great clinical and leadership skills, as well as proficiency in speaking Russian, Polish, and Ukrainian for those patients and families in need of multilingual care and consultation. Mr. Roshko challenges and inspires me to expand my professional abilities; our partnership is something I honor. " says Angela Click.
Hope Palliative & Hospice care is pleased to announce the appointment of their new leadership team.
Individuals interested in learning more about Hope Palliative & Hospice Care are encouraged to visit http://www.gohopehospice.com and/or call 847-803-0400 24 hours a day, 7 days a week for a free consultation.