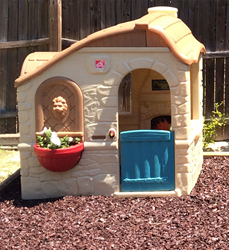 Safety Starts With The Surface.
Hudson, Florida (PRWEB) April 16, 2014
With spring coming on across most of the country parents start to consider installing a backyard playground. With over 225,000 playground injuries every year, some pre-planning can save you time, money, and some bumps and bruises.
1) Don't create a swamp! Make sure that the playground surface is at or above the grade of the area surrounding it. If you must create a play pit make sure that the area can quickly drain after a heavy rain. If water is left standing, mold, mildew, and quick degradation of the mulch will occur.
2) Border the play area with plastic, rubber, or wooden borders to contain the mulch. Do not create a trip hazard by installing the border too high above the mulch surface.
3) Safety surface depth should be rated for the fall height of the playset or structure. Commercial installations should consult their insurance company or CPSI. Use sustainable recycled playground rubber mulch. Rubber Mulch has a higher shock value rating and will not deteriorate year over year.
4) Inspect existing playsets for loose or rusty hardware, broken or peeling boards, weak or worn swing hardware.
5) Fill in potholes under swings and slides as children can trip. Install swing mats and slide mats to reduce maintenance and keep your kids safe.
For the last 15 years Everlast Rubber Mulch has been part of the solution to playground safety. Available in 6 baked on colors and when combined with swing and slide mats, maintenance time and expense is dramatically reduced. Visit http://www.everlastrubbermulch.com for more information on sustainable and safe playground products.