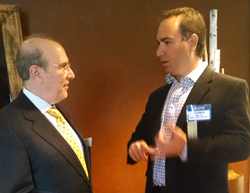 Boca Raton, Florida (PRWEB) April 11, 2014
Top Pro Media Group (TPMG) will launch and exhibit new platforms designed to promote medical practices at a conference in Tarrytown, New York this week. The company has been working with doctors through their subsidiary Medical Practice Specialists for over 10 years, building state-of-the-art websites and streamlining medical marketing.
Co-Founder Aaron Feldman will attend the House of Delegates Meeting of the Medical Association of the State of New York (MSSNY) in Tarrytown on April 11-13th. This will be an opportunity for attendees to view TPMG marketing technology developed specifically for doctors, and receive information about special pricing for MSSNY members.
The meeting will also be a reunion of two long-time friends and colleagues; TPMG's Feldman and MSSNY president-elect Andrew Kleinman, MD have maintained a business relationship for many years. TPMG designed and maintains the website for Dr. Kleinman's Westchester County cosmetic surgery practice @ http://www.cosmeticsurgerywestchester.com/.
Highlighting the week's activities is the inauguration Saturday of Dr. Kleinman as President of the MSSNY at the conference.