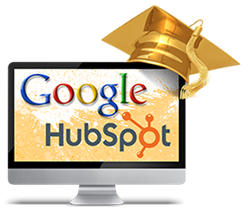 Free Live Event with Limited Seating
Bloomfield Hills MI (PRWEB) April 14, 2014
'Inbound Marketing Master Class' Presented at SugarBush Offices On May 22nd Offers Rare Opportunity For Owners & Execs To Learn How To Optimize Their Own Marketing & Analytics
Getting Hubspot – the undisputed king of marketing automation – into the same room as Google – the leader in all things 'www' – isn't something that happens every day. However, for one day only - May 22nd - these online power players will join forces with Metro-Detroit inbound marketing firm SugarBush Inc. to help Marketing VPs, Sales VPs, Owners, Presidents and CEOs finally get a handle on their own marketing and analytics strategies.
Dubbed the "Internet Marketing Master Class" this free three-hour meeting of the minds will run from 9am to 12pm at the SugarBush Inc. office in Bloomfield Hills, MI. This event promises to fill up its 75-seat capacity soon and features the following sequential series of "lessons" by representative experts from all three firms:
Sales Channel Strategy by Mark Lundquist, CEO Fulcrum Edge
Multi-Channel Marketing by Mark Parent, Hubspot VAR Partner & President SugarBush
Driving Leads & Securing Sales by Catherine Johnson, Google SMB Services
According to SugarBush President and CEO Mark Parent, "This event gives those in attendance almost unheard of access to some of the biggest players in the internet marketing game today. We know our clients will benefit immensely from the insider tips and solutions that will be offered – and that each will walk away with a set of skills and insights their competitors won't be able to match."
For more on the Internet Marketing Master Class and to request an invitation, visit this link
About HubSpot
Hubspot is an inbound marketing software platform that helps companies attract visitors, convert leads and close customers.
About Google SMB Services
From AdWords and Google+ for Business to Google Analytics and Google Apps, Google provides a comprehensive suite of solutions to help its SMB partner businesses optimize their online presence.
About Fulcrum Edge, Inc.
Fulcrum Edge, Inc. provides solutions for sales growth, sales channel strategy, and new market penetration to leaders in business. We support over 40 industries ranging from high tech to healthcare.
About SugarBush Inc.
SugarBush Inc. delivers "Inbound & Multi-channel Marketing" solutions. We provide strategy, creative and program management that helps marketers tie every single lead, customer and dollar back to the marketing initiative that created them.