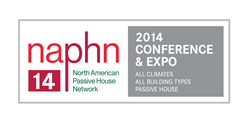 Portland, Maine (PRWEB) April 11, 2014
The North American Passive House Network (NAPHN) has announced a call for submissions regarding their upcoming two-day conference set for September 22-23, 2014. Taking place in Portland, Maine, the 2014 conference and expo is being presented by NAPHN with particular cooperation and support from member organization passivhausMAINE. The keynote address will provided by Dr. Wolfgang Feist, Founder and Director of the Passive House Institute.
There will be a variety of presentations, all focusing on the Passive House Standard. Eight issues will be considered for those submitting:

All Climates: All climates are eligible, from buildings in demanding (and not so demanding) climates; from arctic, to desert, to hot and humid and between.
All Building Types: All building types are eligible, from buildings with complex programs (and not so complex); from schools, to offices, to multi-family, to single family homes.
Integration: A look at the planning and technological nuts and bolts; from heat pumps, to ventilation, to manufactured and production building, to onsite PV, solar thermal and more.
EnerPHit Standard: Renovating to make yesterday's buildings part of the future. All uses, locations, and issues.
Nor'easter: Regional issues regarding buildings, techniques, and issues unfolding in the conference host region of New England and Eastern Canada.
Comfort, Health, and Efficiency: Technical considerations regarding predicable, mold free, draft free, low-energy building.
Finance & ROI: The institutions, the mechanisms, the policies, the data to make these buildings possible.
Energy, Policy & Building: From Passive House and new PHI energy rating categories, to a green grid – all aspects of making society's low-energy carbon-free changeover.
Presentation submissions may address more than one topic area. Submissions are encouraged to indicate as many topic areas as may be applicable, though a primary focus for the session must be noted in the description. Submissions are welcome from across North American and from around the globe. The deadline for acceptance is set for May 31st and submissions may be updated at anytime up to the deadline. Those interested in applying should do so online through the NAPHN online submission form.
###
About passivhausMAINE:
passivhausMAINE is committed to decreasing carbon emissions, decreasing dependency on fossil fuels and decreasing costs for winter heating across the economic strata in Maine. Currently passivhausMAINE has representatives from architectural firms, design/build companies, auditors, green building consultants, a photographer and an attorney. It is eager to bring more voices to the table particularly environmentalists, educators, low-income housing administrators and developers, realators and bankers. http://passivhausmaine.org/
About the North American Passive House Network:
The North American Passive House Network (NAPHN) shares up-to-date news, events, and other knowledge resources related to Passive House across North America. NAPHN helps promote Passive House across the continent. Membership now includes: Canadian Passive House Institute, New York Passive House, Passive House California, passivhausMAINE, Passive House New Mexico, and Passive House Northwest. See http://www.naphnetwork.org/.
About Passive House:
Passive House is an international building standard developed by the Passive House Institute in Darmstadt Germany, that represents a roughly 90% reduction in heating and cooling energy usage and up to a 75% reduction in primary energy usage from existing building stock – meant to aggressively meet the climate crisis carbon reduction imperative while making a comfortable, healthy and affordable built environment. Passive House is the most cost effective pathway toward the growing demand for net-zero or nearly-net-zero construction. Passive House is also a methodology that requires designers to consider orientation, massing, insulation, heat recovery, passive use of solar energy, solar shading, elimination of thermal bridges, and internal heat sources. The term Passive House may also used to refer to a building that has been tested and certified to meet the Passive House standard. Passive House building are extremely energy efficient, healthy and comfortable for occupants, predictable to manage, and resilient by design. See http://www.passivehouse.com.