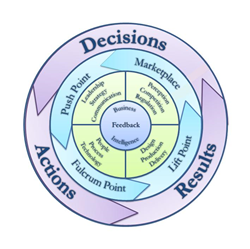 Armonk, New York (PRWEB) April 12, 2014
JEMCON has published the latest evolution of the Strategy Deployment Model placing emphasis on a middle layer between business disciplines and factors, and the decisions, actions and results they influence. This middle layer consists of five levers: push point, fulcrum point, lift point, marketplace and feedback loop.
The Strategy Deployment Model is a proprietary framework that breaks down and defines what it takes to achieve sustained business success, in the form of continuous performance improvement.
The outer layer of the model identifies the three primary imperatives for success, as: Decisions, Actions and Results. The middle layer of the model identifies the levers driving the imperatives, as: Push Point, Fulcrum Point, Lift Point and Marketplace. The bottom layer of the model identifies the disciplines & factors supporting and influencing the levers, as: Leadership, Strategy, Communication, People, Process, Technology, Design, Production, Delivery, Perception, Competition and Regulation. Sequentially the imperatives, levers, disciplines and factors form a linear view of the strategy deployment model. However, in order to achieve continuous performance improvement, a fifth lever – Feedback Loop - is added, which forms a circular view of the Strategy Deployment Model.
The Strategy Deployment Model is typically used by corporate boards, private equity investors and corporate executives, as they seek to achieve and sustain business objectives such as: increased shareholder value, market share, and profitability. For more information, and specific applications, see Strategy Deployment Model http://www.jemconsult.com/StrategyDeploymentModel.pdf.