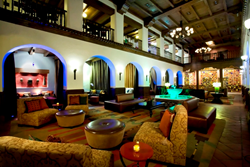 Our hotel is committed to environmental protection through solar energy use, water harvesting and recycling among other elements of our LEED Gold certification. We are excited about celebrating Earth Day with this group. --John O'Hara, GM
Albuquerque, NM (PRWEB) April 10, 2014
The Hotel Andaluz will be hosting a free event open to the public in honor of Earth Day on Tuesday April 22, 2014 from 10 am to 1 pm in the Ibiza patio on the second floor. Speakers will be addressing awareness of environment protection and restoration; a wolf from the Wild Spirit Wolf Sanctuary and raptors from Avian Ambassadors will also be on site. Nonprofits will be displaying Earth Day information on site, including the Green Chamber of Commerce, the Nature Conservancy, Bosque School and the State Land Office.
Speakers include:

Congresswoman Michelle Lujan Grisham
State Land Office Commissioner Ray Powell
Terry Sullivan of the Nature Conservancy
Gary Goodman, owner of Hotel Andaluz
"Our hotel is committed to environmental protection through solar energy use, water harvesting and recycling among other elements of our LEED Gold certification," said John O'Hara. "Celebrating Earth Day is important to us, and we are honored to be hosting an illustrious group to speak on the topic."
For vendors who would like to participate at the Hotel Andaluz's Earth Day event, contact Director of Marketing and Sales, Richard Eeds reeds(at)hotelandaluz(dot)com 505 923 9013.
FOR MEDIA INQUIRIES:
Jennifer Hobson-Hinsley
505 603 8643
Jennifer(at)jlhmedia(dot)com
About Hotel Andaluz: A leader in eco-friendly hotels, Hotel Andaluz has a rich history in downtown Albuquerque, New Mexico. The fourth hotel ever built by Conrad Hilton, Hotel Andaluz was returned to its former glory in 2009 by current owner and local resident Gary Goodman. Hotel Andaluz is the only Historic Gold LEED Certified hotel in the Southwest and the only AAA Four Diamond Hotel in Downtown Albuquerque. With 107 rooms and suites with a variety of meeting spaces, Hotel Andaluz is the only boutique hotel in the City Center and a popular destination for parties, business meetings and weddings. The building is on the historic registry and will celebrate its 75th anniversary in June 2014. http://www.hotelandaluz.com