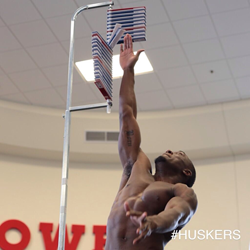 Seisay looked like the smoothest with the most fluidity among the defensive backs.
Fairfax, VA (PRWEB) April 16, 2014
Mohammad Seisay, former University of Nebraska cornerback, stunned NFL scouts with his performance during Nebraska's annual Pro Day. Held on March 6, 2014, the annual Pro Day brought 28 NFL scouts from 23 different teams to Hawks Championship Center.
Seisay drew quite a bit of attention both with his 40-yard dash (one of the fastest in his group) along with his general athleticism, according to Grant Muessel of Hail Varsity.
Below are the unofficial stats recorded by NFL scouts and Nebraska's strength coach James Dobson:
Vertical Jump: 39"
Broad Jump: 11'0
10 Yard Dash: 1.52 seconds
40 Yard Dash: 4.36 seconds-4.44 seconds
20 Yard Shuffle: 4.14 seconds
3-Cone Drill: 6.50 seconds
60 Yard Dash: 10.95 seconds
Bench Reps (225 lbs): 13
View Seisay's Pro Day performance here.
Muessel further elaborated saying, "one of the 'winners' today appeared to be Mo Seisay, who is far from short of athleticism. Seisay definitely passes the eye test when it comes to physique, and appeared to run one of the fastest 40-yard dashes of the whole group. In the backpedaling and pass catching drills, Seisay looked like the smoothest with the most fluidity among the defensive backs."
After Seisay's performance, he had several private team visits but did not want to disclose specifics, and he is looking forward to the private workouts heading towards the draft.
While Seisay's performance was worthy of NFL attention, he continues to fly under the radar on his path to the 2014 NFL Draft. During his first season with Nebraska, Seisay was slowed by a minor injury for the first time in his football career, which resulted in less playing time. When asked whether he thought this would impact his chances of going pro, Seisay offered this response:
"I'm not concerned. I've been playing football since the age of 10 and football is a team sport so I did as the coach asked at the time. I've proven myself time and time again and feel confident that my overall performance throughout my football career and at the Pro Day will land me a spot. In the meantime, I will continue to work out and prepare for the potential of joining an NFL team on May 8th."
While most student-athletes would see this as a setback, Seisay recovered quickly and the 6'2, 202-pound Mo Seisay completed his two-year Nebraska career in 2013 and made a big impression, literally. "He's a big presence out there, a big dude," said Coach Bo Pelini. Seisay was cited as a key contributor the past two seasons as a versatile reserve in the Nebraska secondary and one of the Huskers' top special teams performers.
Seisay primarily saw action in 2013 in Nebraska's nickel and dime packages. He finished the season with nine tackles, including eight solo stops and one tackle for a loss. Seisay was one of 19 Husker seniors to play in the bowl game. Furthermore, Seisay graduated early as a Scholar-Athlete Honor Roll student with a BS degree in family sciences in August 2013.
Prior to joining Nebraska's program, Seisay was a star performer at the University of Memphis (2011) and at Eastern Arizona Junior College (2009 -2010), the same junior college that produced Nebraska cornerbacks Zack Bowman and Armando Murillo, but Eastern Arizona Coach John O'Mera stated, "Seisay is better than both."
Eastern Arizona Junior College (Highlights):

22 tackles
Six interceptions, including two that were returned for touchdowns,
Seisay was recognized as one of the top junior college players in the county by Rivals.com and among the top three defensive backs,
247 Sports ranked him among the top 20 junior college prospects in the country.
University of Memphis (Highlights):

Started all 12 games as cornerback for the tigers in 2010
earned Conference USA All-Freshman honors,
finished the 2010 season with 39 tackles, including 23 solo stops, two interceptions and three pass breakups.
Seisay had a season-high six tackles in three games (East Carolina, Tennessee, and UAB).
To see more highlights of Seisay's performance on the field click here.
While Mohammad Seisay may not be in the headlines as a top prospect, his tenacity, love for the game and most significantly, his physical ability to perform, is certainly worthy of a shot at the NFL.
Mohammad's Facebook page: Facebook.com/MoSeisay
For further information contact Bill Baldini at 610-574-4504 or email wbaldini(at)bacsport(dot)com.