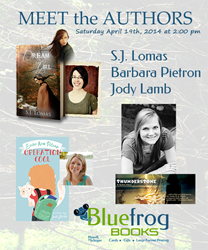 (PRWEB) April 11, 2014
Blue Frog Books is pleased to announce a special three author event on Saturday, April 19th, 2014 at 2:00 pm.
SLATED TO APPEAR;
1.) S.J. LOMAS with her book, "Dream Girl". This is a story of adventure, danger and romance. The main character, Christine, has her life turned upside down when she meets her new mysterious co-worker at the library, Gabriel. With him, she finds a connection beyond anything she's ever felt or experienced. It is this overwhelming connection that compels Christine to unknowingly follow Gabriel into a dangerous, bizarre dream world.
S.J. is a cheerful Michigan girl who writes strange and somewhat dark stories. S.J.'s preferred genre is young adult literature, with an extra special fondness for books by Michael Lawrence, Beth Revis and Eve Marie Mont.
2.) BARBARA PIETRON, with her book "Thunderstone". The main character, 15-year-old Jeni, purchases a unique souvenir while on a family trip and it turns into a life-changing event. She meets Ice, the local medicine man's apprentice, who knows the true power of the souvenir. He warns her, but still the powers are released and awaken an underwater monster. Jeni has to summon the courage to save the town, Ice, and herself from the
creature the artifact released.
Barbara is from Royal Oak, MI and works as a librarian after leaving her corporate career to follow her dream of being an author. In 2012, her novel "Thunderstone", was a quarter-finalist in the Amazon "Break-through Novel Award" contest and won a critique by Publisher's Weekly.
3.) JODY LAMB, with her book, "Easter Ann Peters' Operation Cool". When 12 year old Easter Ann Peters decides she wants to erase years of being the quiet, shy, straight A student for seventh grade, she gives it a name, "Operation Cool." The plan moves forward and things at school change. However, other things in her life change as well. Easter Ann has to keep it all together and find a solution to keep seventh grade from being the worst ever.
Jody Lamb enjoys channeling her inner teen to write hopeful, realistic fiction for middle grade and young adult readers. Her debut novel, Easter Ann Peters' Operation Cool, was named the 2012 Book of the Year in juvenile fiction by ForeWord Reviews.
Blue Frog Books, 3615 Grand River, Howell, MI (Grand River Plaza with Carson's and Dunham's)
For information: (517) 552-6080