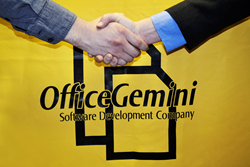 Houston, Texas (PRWEB) April 11, 2014
Office Gemini, a leading international software company specializing in document management and scanning technologies, has today announced the launch of a competitive reseller recruitment drive in the US as it strives to reach more customers and bolster sales in the US market.
The US reseller recruitment drive is part of a wider scheme in the United State and its international territories, designed to accelerate the company's worldwide growth strategy. Office Gemini is eager to strengthen its product distribution network in the US and consolidate its partnership program for VARs and resellers across the American region.
"We are interested in partnering with resellers who have experience selling to small scale government departments and SMBs but also in the education sector (colleges, universities, private schools), and local government. We're also keen on forging partnerships with distributors who sell to the transportation, law and health sectors," said Office Gemini's CEO, Boris Roy.
45 % minimum margin for resellers
Office Gemini's reseller program offers exceptional benefits - guaranteeing resellers a 45% margin on every sale and up to 50% if they achieve a monthly turnover of more than $5,000
Resellers will aim to reach new customers for the company's two best-selling software products:Dokmee: The company's flagship product, Dokmee boasts feature-rich document management software which is installable and operational in less than a day, and comes at a very attractive price. With several editions available, Dokmee is able to meet the needs of companies of all sizes.
Diamond Vision is the ideal one-stop solution to meet the digitization needs of workplaces across all sectors, as well as day-to-day scanning within businesses and organizations that need paper files converted into electronic images.
How to become a certified Office Gemini reseller:
To enable its resellers achieve their business goals, Office Gemini offers comprehensive product training and support throughout the sales cycle. All certified Office Gemini resellers will be required to participate in this training in order to achieve and maintain comprehensive product knowledge.
The reseller sign-up fee is $3245 for the first year and $649 per year thereafter for maintenance and to receive the free demo versions.
The certified resellers programs offers the following benefits:

Marketing and advertising support (marketing collateral, information brochures online advertising, POS display)
Sales and technical documentation
Organization of joint events
A generous rewards program
Ability to test products through demo versions
Availability of technical support (24 hours, five days a week)
About Office Gemini
Office Gemini is an international software manufacturer focused in the document management and document scanning industry. Office Gemini distributes its software products through a vast worldwide network of value-added resellers (VARs). From great software products and implementation assistance to strategic document management and scanning consulting services, Office Gemini is able to provide a wide range of services to End Users and VARs equally. Office Gemini's sales and support specialists are not only experts on internal software products, but are also very knowledgeable about the industry as a whole and can help with complementing software and hardware products. The two flagship products, Dokmee and Diamond Vision, are used by thousands of customers in more than 30 countries and are available in several different languages. For more information about Office Gemini, please visit http://www.officegemini.com for more information on Dokmee visit http://www.dokmee.net solution.
Cesar Vega
Vice President of Sales and Marketing
cvega(at)officegemini(dot)com
Tel : 832-369-3900
Arlene Nguyen
Marketing Communication Representative
anguyen(at)officegemini(dot)com
Tel: 832-369-3900