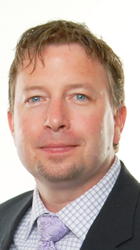 MarginPoint offers a unique holistic approach that ensures that a company's entire indirect materials spend is optimized and results in a significant cost savings
Lake Forest, CA (PRWEB) April 14, 2014
MarginPoint — a leading provider of cloud-based indirect material management solutions — today announced the addition of Drew Macbeth as their new Vice President of Sales. With over 20 years' experience in sales, Macbeth has an extensive background in information technology across multiple channels and a history of leading and growing sales organizations.
"MarginPoint continues to take significant steps to prepare for accelerated growth," says Vince Sheeran, CEO of MarginPoint. "The addition of a vice president of Drew's caliber demonstrates our focus on building a company capable of supporting global enterprise customers and the distributors that serve them."
Macbeth brings extensive ERP sales and service experience to MarginPoint. He previously held the position of Vice President Sales for Sage Software, where he led a multi-product, multi-channel team of ERP sales and services professionals. He holds a B.A. from West Virginia Wesleyan College and an MBA from Frostburg State University.
"MarginPoint offers a unique holistic approach that ensures that a company's entire indirect materials spend is optimized and results in a significant cost savings," says Macbeth. "I'm pleased to be joining the MarginPoint team and believe I can play a significant role in helping the company as they expand their product and service offerings for use by enterprises around the globe."
About MarginPoint
MarginPoint is a leading provider of cloud-based indirect material management solutions for the industrial market. More than 400 industrial companies currently rely on MarginPoint solutions daily to reduce their indirect material spending and streamline their indirect material management processes. MarginPoint is uniquely focused on integrating the end-to-end indirect material lifecycle to deliver the highest possible ROI for customers. MarginPoint's SaaS delivery model enables customers to rapidly deploy the solution without any significant up-front IT investment.
MarginPoint is a privately-held company whose investors include The Argentum Group, InnoCal Venture Capital, Inverness Graham Investments and Mission Ventures. For information about the company's products and services, or how to become a MarginPoint distributor or partner, please visit the company's website at http://www.marginpoint.com or call 888-229-3685.