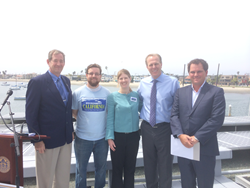 It makes perfect sense for San Diego, one of the sunniest cities in the country, to lead the way in solar energy.
SAN DIEGO, CA (PRWEB) April 10, 2014
Today, Mayor Kevin Faulconer and other solar advocates gathered at the Mission Bay Aquatic Center, the first net-zero commercial building in San Diego, to celebrate the City of San Diego's recognition in being ranked the second largest solar producing city in the nation. The report, "Shining Cities: At the Forefront of America's Solar Energy Revolution" released today by Environment California Research and Policy Center, placed San Diego just behind Los Angeles. The last two consecutive reports by Environment California ranked San Diego as the solar capital of the nation.
Remarks were made at the press conference by Michelle Kinman, clean energy advocate of Environment California; Len Hering, executive director of the California Center for Sustainable Energy; Mayor Kevin Faulconer; and Daniel Sullivan, founder and president of Sullivan Solar Power.
"While Los Angeles took the first place position in this year's report, San Diego produces three times as much energy on a per-capita basis," said Daniel Sullivan, founder and president of Sullivan Solar Power, a local company that expects to do $34-million in revenue this year.
Sullivan attributes the growth of his company and the industry-at large to the commitment of San Diego residents that have declared energy indepdence. Sullivan Solar Power started with humble beginnings, the company was founded out of a garage in 2004, with only $2,500 in the bank. Today, his firm employs 106 local residents and has grown to be the largest installer in the San Diego Gas and Electric utility territory, according to California Solar Initiative data.
San Diego mayor Kevin Faulconer emphasized that the city has been pushing renewable energy initiatives for years, noting plans to expand solar installations at city-owned facilities to continue growing the local solar market.
"It makes perfect sense for San Diego, one of the sunniest cities in the country, to lead the way in solar energy," said Faulconer.
Kinman and Sullivan acknowledged the California Center for Sustainable Energy (CCSE) and its contributions to the growing solar market through education and training within the community. The California Solar Initiative state rebate program has been successfully administered by CCSE, evidenced by the local rebate being exhausted faster than any other utility territory in the state.
"Solar power is booming across the country and cities are at the forefront," said Michelle Kinman, clean energy advocate at Environment California, "As one of the top ranking cities, San Diego is leading the way."
At the time the Environment California report research was conducted, the City of San Diego had 107-megawatts installed, while Los Angeles had 132-megawatts of solar energy capacity. Other top solar cities in America include Phoenix, San Jose and Honolulu.
###
About Sullivan Solar Power
Sullivan Solar Power is a turnkey solar system provider that delivers solar electric projects from concept to completion. The company has installed over 18,500,000 watts of solar power ranging from small-scale residential to large-scale commercial and municipal systems. Sullivan Solar Power is headquartered in San Diego, CA and owned and operated by Dan Sullivan. Sullivan Solar Power has a longstanding A-plus rating with the Better Business Bureau, with no complaints filed since the business began. The firm has been named one of the fastest growing energy companies in the nation by Inc. Magazine for three consecutive years and services all of Southern California. Regardless of project size and scope, Sullivan is committed to delivering the best products and the most qualified professionals to its customers. Visit http://www.sullivansolarpower.com for more information.
Environment California
Environment California Research & Policy Center is a statewide nonprofit environmental advocacy organization working to protect California's air, water and open spaces. More information, including copies of today's report, can be found at http://www.environmentcalifornia.org/center.