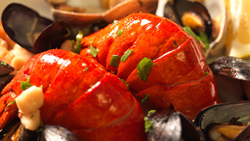 (PRWEB) April 11, 2014
The Black Point Maine Lobster Bake from GetMaineLobster.com is the easiest way to enjoy all that Maine seafood has to offer. As a perfect appetizer for an outdoor party, or a light seafood meal for 4 people, this delectable special sets the stage for a spring evening gathering or a weekend afternoon with family.
Hand-selected tasty seafood morsels include 4 Maine lobster tails (3-4 oz each); 16 ounces of clams; 8 Atlantic crab claws; 8 shrimp; and 4 of Maine's finest corn on-the-cob.
The bake arrives in an easy-cook baking sleeve. Cooking directions are included. Simply place in the oven or on the grill and voila—a Maine seafood delight, ready to eat in less than an hour.
GetMaineLobster.com offers many types of specials, including corporate gifts, weekly specials and specials to support the Paleo diet. Their Dockside Deals offer consumers the amazing opportunity of buying now to take advantage of the sales price, and having the order delivered later, whenever desired, with free shipping.
GetMaineLobster.com also invites customers request custom specials – just call 866.562.4817.
About GetMaineLobster.com:
GetMaineLobster.com, a division of Black Point Seafood and Black Point Gourmet, hand-selects the finest Maine lobster, seafood and beef products for convenient distribution throughout the United States. Their passion is to make fresh, quality seafood readily available to customers across the country, which is why they buy from only the most trusted, well-established suppliers to ensure that they receive the finest products available.
GetMaineLobster.com was selected out of the more than four million small American businesses served by Chase bank to represent its new Platinum Business Checking product for its 2013 national advertising campaign.