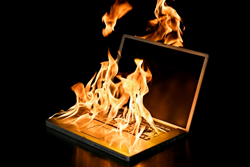 I really can't understand why these Fire Containment Bags are not mandatory on all commercial flights...
Neptune, NJ (PRWEB) April 11, 2014
With the missing Malaysia Flight 370 continuing to dominate headlines as well as the fact that it is the subject of many conversations about commercial flight safety,
All Hands Fire Equipment CEO, Donald Colarusso, is passionate about sharing information about lithium battery safety on flights. He discusses upcoming changes in black boxes as well as concern about the risk that lithium batteries pose on flights, below.
-Fire Safety Concerns for Commercial Flights Should be Addressed
Mr. Colarusso is the founder of All Hands Fire Equipment, a NY and NJ fire equipment safety company, as well as a veteran firefighter and fire safety trainer. He says,
"Many are talking about the fact that the lithium batteries in the black box on flight 370 are expiring and that this will increase the difficulty in locating the black box. It's unfortunate that it often takes great catastrophe to spur positive change but emergency signals are being added to black boxes beginning next year that will help locate them for up to 90 days and underwater. Lithium batteries on flights in the cabin and the cargo hold are another area of major concern that shouldn't be ignored. Sadly, it seems that commercial airlines are not paying enough attention to the risks."
Mr. Colarusso says that it's proven that lithium batteries on flights in portable devices such a smart phone or tablet computer could be detrimental to safety. While the Hot Stop fire containment bags that his company sells from their online store are popular, Mr. Colarusso says, "I really can't understand why these Fire Containment Bags are not mandatory on all commercial flights. The investment of $1,075 per unit is small when compared to the fact that it could be lifesaving."
-In-Flight Lithium Battery Concerns
While there's currently no evidence pointing to faulty lithium battery explosions having any bearing on Flight 370, there are major concerns about the batteries in cellular phones, computers and tablets on all flights due to risk of fire and explosion.
Mr. Colarusso says, "The Hot Stop L Fire containment bag kit was created as a solution to faulty batteries causing risk of fire and explosion on flights in 2007. It was recognized in 2008 by the FAA as the only containment bag technology worthy of further testing. While Corporate and charter aviation are primary users of this technology for fire containment, commercial airlines should really take notice of this safety concern and solution."
Visit http://www.allhandsfire.com/HOT-STOP-L-FIRE-CONTAINMENT-BAG for more information, including videos that demonstrate the danger of overheating laptops as well as the effectiveness of this technology.
About All Hands Fire Equipment
NJ-based All Hands Fire Equipment strives to provide the best tools for the toughest jobs. The company offers a multitude of safety and survival equipment that is sold to rescue operations, outdoor enthusiasts, and more. This family owned business has been in the fire safety industry since 2001 and the founder is a veteran fire fighter and safety trainer.
Contact information:
All Hands Fire Equipment
506 Atkins Avenue
Neptune NJ 07753
Email: sales(at)allhandsfire(dot)com
Follow All Hands Fire Equipment on Facebook at http://www.facebook.com/AllHandsFire and on Twitter: at http://twitter.com/allhandsfire