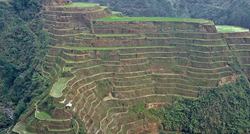 We pride ourselves on our depth of knowledge about Asia as well as our creativity, and it is gratifying to be recognized by one of the world's leading travel publications
New York, NY (PRWEB) April 11, 2014
Remote Lands, the world's leading ultra-luxe Asia travel designer, is delighted to be included on National Geographic Traveler magazine's 50 Tours of a Lifetime list for 2014, which was published this week.
The list compiles the world's most authentic, innovative, immersive, best-guided, and most sustainable tours, and the operators who create them. "The tours we selected go beyond destination to add meaning and context," says Norie Quintos, the magazine's executive Editor. "They open the mind to new possibilities, new connections, new ways of thinking—all critically important given the world's complex issues."
Remote Lands earned its place on the hallowed list thanks to its Philippines: Trekking the Terraces & Beyond itinerary – an amazing seven-day trip kicking off in Manila and taking in the spectacular Banaue rice terraces, the Ifugao village of Batad, the hanging coffins of Sagada, the mountain retreat of Baguio, and the charming colonial town of Vigan, and including activities such as trekking, white water rafting and horse riding. The itinerary is just one of dozens of new trekking trips launched by Remote Lands in the last few weeks.
"We are truly honored to be included on the National Geographic list" said Catherine Heald, Remote Lands' co-founder and CEO. "We pride ourselves on our depth of knowledge about Asia as well as our creativity, and it is gratifying to be recognized by one of the world's leading travel publications. NGT shares our ethos in seeking out experiences that are more than just holidays and that really help travelers go deeper to discover the soul of a destination."
You can read the full National Geographic Tours of a Lifetime list here. For more information about the Trekking the Terraces & Beyond itinerary, visit the Remote Lands website or email info(at)remotelands(dot)com.
About Remote Lands, Inc.
Remote Lands, Inc. creates highly personalized, ultra-luxe holidays in Asia, optionally by private jet or yacht. Based in New York and Bangkok, they specialize in extraordinary experiences that are difficult to arrange and require privileged access to important people and exclusive events, drawing upon their relationships with remarkable people around Asia. They distinguish themselves with their unparalleled service, creative itineraries and extreme attention to detail.
Remote Lands has been featured in The New York Times, The Wall Street Journal, Departures, Travel + Leisure, Condé Nast Traveler, Town & Country, the BBC, Fox Business News, Financial Times, National Geographic Traveler, W, Newsweek, Forbes, BusinessWeek and more.