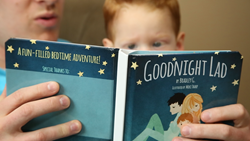 Where do they come from? Are they alive?
Sandy, Utah (PRWEB) April 11, 2014
Hidden Worlds announce a new way to read children's books with their augmented reality title, Goodnight Lad. The book is a magical experience where each page comes to life with 3D animations that jump right off the page. This experience will leave kids in awe asking: "Where do they come from?" and "Are they alive?"
Check out the project on Kickstarter.
A sample page from the book has been provided showing the technology in action. The sample shows a tireless child banging on drums, partying, and being tickled by his loving parents. By pointing an iOS or Android device at the page the scene comes to life with animations. The process is very robust, allowing users to tilt, rotate, and move closer to the book to really visualize different parts of the scene. Brad Grimm describes it, "It works so well that kids are surprised by they look up and see nothing on the page. Even adults have a moment of shock when they tilt the book fully horizontal from the phone and the scene finally disappears."
The technology uses a markerless technique so there are no code, symbols, or signs on each page. Founder Brad Grimm explains, "The beauty of this technique is that any existing book can be retrofitted to take advantage of this method." Hidden Worlds also provides a service to publishers to do just that, and bring hidden worlds to their own books. They believe this technique could be useful for a variety of existing books, and hope to see a larger library of their own books in the future.
The story is one that parents will understand all too well. A boy who should be going to bed just isn't getting tired. It features a rhythm and rhyme that fits the fun nature of the story. It tells of two parents that travel around the world trying to wear him out until, against their best efforts, he turns into "a beast, a grim, a grouch, a grum". Just when it appears all is lost, he finally wears out, and is brought back to bed in just the nick of time.
The Kickstarter funds will be used to finish the animations for the rest of the pages, print the book, and deliver copies to backers doors. There are a variety of funding levels that include a matching blanket and pajamas with the boy in the book, and even the opportunity to have yourself immortalized in 3D visible on the back cover.
Sarah Grimm, the founder's wife, explains, "The response I get when I show this book to my friends is remarkable. Everyone that has experienced it has instantly loved it." Their goal is to get people to experience the magic. Brad Grimm puts it, "Once it has been experienced they realize how useful and amazing it is. Our hope is that enough people experience it before the campaign ends."