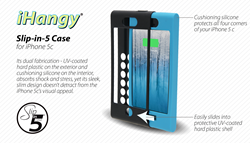 Dallas, TX (PRWEB) April 11, 2014
With prices dropping below the $120 price point, individuals who thought they could never afford an iPhone 5S now can. Even at that cost, however, the smartphone is still an investment they'll want to safeguard. The new iPhone 5S Case with Lanyard Necklace from iHangy offers iPhone 5S owners protective peace of mind.
Earlier this month, CNN Money (http://money.cnn.com/2014/03/05/technology/mobile/walmart-iphone-price-cut/) reported that Wal-Mart had slashed prices on iPhones. In particular, the price on the 16-gigabyte iPhone 5s dropped from $145 to $119 at the discount retailer. Best Buy promptly followed suit, cutting the price tag on the iPhone 5S to $150. Both discounted figures require two-year contracts. For about the same price as that cost savings, new iPhone 5S owners can protect their smartphone with the shock-absorbent iPhone 5S Case with Lanyard Necklace from iHangy.
For more information on how iHangy's new iPhone 5S Case with Lanyard Necklace can keep a new iPhone 5S safe from harm, contact OnTrion's Palki KOchar. To learn more about the new smartphone case, visit the manufacturer on the web at http://www.ihangy.com/category-s/1842.htm.
###
CONTACT INFORMATION:
iHangy
13650, TI Blvd., Suite #309
Dallas, TX 75243
(877)676-0877