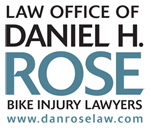 San Francisco, California (PRWEB) April 12, 2014
As part of National Bike Month, the Law Office of Daniel H. Rose is proud to sponsor the East Bay's Bike To Work Day, May 8, 2014. The annual event, put on by Bike East Bay (formerly known as the East Bay Bicycle Coalition) is celebrated by thousands who choose to experience the joys and benefits of bicycling to work, school, and for local errands and so benefit their environment , communities, mind, spirit, and pocketbook.
Bike East Bay, founded in 1972, is a non-profit organization dedicated to promoting bicycling as an everyday means of transportation and recreation. It safeguards the interest of bicyclists in Alameda and Contra Costa counties, and works with 33 cities, both counties, Caltrans, and other government agencies to improve conditions for cyclists. Our law firm heartily applauds and admires Bike East Bay's great and widespread accomplishments which have immensely improved the quality of life of communities throughout the East Bay and beyond.
The Law Office of Daniel H. Rose specializes in the representation of injured bicyclists and pedestrians throughout the San Francisco Bay Area, with more than 28 years experience. Daniel Rose is one of the leading bicycle lawyers in the San Francisco Bay Area, serving the counties of Marin, San Francisco, Alameda, Santa Clara, San Mateo, Contra Costa, Sonoma and Napa. Mr. Rose has a reputation for ethically, efficiently and compassionately pursuing the maximum compensation allowed by law. Read about the firm's handling of cases on Yelp.
LAW OFFICE OF DANIEL H. ROSE
One Sansome Street, Suite 3500
San Francisco, California 94104
Tel: (415) 946-8900 Fax: (415) 221-0892
danrose@danroselaw.com