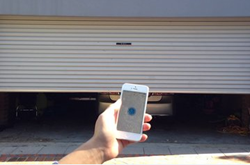 Lift is the latest in home integrated iPhone applications, that offers users with the ease of opening their Garage doors straight from their iPhone
Wantirna, VIC (PRWEB) April 11, 2014
A brand-new iPhone application that acts as a garage door opener will soon be available this October. According to the mastermind behind this handy application, John Wei, the application works in sync with a bluetooth device that will allow users to open their garage directly from their iPhones.
John Wei, the creator of this new application, is a software developer based out of Mel-bourne Australia, and recently launched a Kickstarter project to fund this project to take it to a larger scale. The application is called "lift" and available in app store for download (http://bit.ly/1iPRdKG).
"Last year my garage door opener's remote control was broken, and it was a pain that we have to share only one remote control," stated Wei. "Suddenly an idea came up, wouldn't it be so cool and so convenient if we can open the garage door with our iPhone?"
Soon enough Wei was able to come up with a prototype of the device by integrating a Bluetooth 4 breakout that works in sync with the iPhone app and firmware he created. According to Wei, the prototype is working "Brilliantly."
As of right now, Wei is looking to get this innovative application out to the market, and is seeking to raise $5,000(AUD) through Kickstarter.
Wei has set an aggressive target and is looking to get the app out to the market by October of this year.
The launch and production of lift has both software and hardware needs and thus the schedule for development to production must be in-sync to provide a seamless launch.
About Lift
Lift is the latest in home integrated iPhone applications, that offers users with the ease of opening their Garage doors straight from their iPhone. lift aims to add convenience to iPhone users and soon android users lifestyles to take away the dependance on conventional garage door openers. For more information, visit https://www.kickstarter.com/projects/1916007507/lift-the-easy-way-to-open-your-garage-door-0.
Contact Information
Lift
Wantirna, VIC 3152
Australia
Phone No: 1.888.230.2930