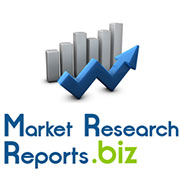 Low Iron Glass For Concentrating Solar Power (CSP): Market
(PRWEB) April 11, 2014
Markets Research Report announces that it has published a new study: Low Iron Solar Glass Concentrated Solar Power (CSP) Market Shares, Strategy, and Forecasts Worldwide, 2014 to 2020. The 2014 study has 565 pages, 303 tables and figures. Worldwide markets for Low Iron Glass for Concentrating Solar Power (CSP) are poised to achieve significant growth based on an expectation of rapid adoption of CSP worldwide. As soon as a market has 100 paying reference accounts, it becomes a viable market. CSP solar systems have reached that market inflection point.
Browse Full Report With TOC: http://www.marketresearchreports.biz/analysis-details/low-iron-glass-for-concentrating-solar-power-csp-market-shares-strategies-and-forecasts-worldwide-2014-to-2020
Growth potential of the CSP sector is strong, part of the solar growth that is poised to make solar energy represent 90% of the world's energy production within 25 years. Just as smart phones grew rapidly once the price points were affordable and the economies of scale large enough to drive down prices for the markets to achieve significant growth, so also solar markets will take off. CSP has a strong ability to reduce the cost of electricity produced. Compound annual growth rates are expected to be made meaningless by penetration analysis when the markets grow rapidly.
There are no hindrances to CSP growth except technology, and the new nanotechnologies make solar processes possible. The materials are simple, silica, silica, and more silica. With solar energy available to support the CSP low iron glass and the CSP module manufacturing processes, the markets will grow at compound rates.
Costs of electricity from CSP plants at US $ 0.15-0.24/kWh will decline to $.03 and lower by 2017 as the effect of the 35 year life span of the plant is factored into cost analysis. Once the plant is built, very little labor is necessary; there are no ongoing fuel costs. This is a compelling economic story.
To Download Full Report With TOC: http://www.marketresearchreports.biz/sample/sample/193952
By 2020, expectations are that CSP capital costs will decline even further by between 30% and 50%. New technology will make plant operations even more efficient by that time.
According to Susan Eustis, the lead author of the team that created the study, "Concentrating Solar Power (CSP) depends on low iron glass because the low iron glass is clear and creates increased efficiency in the capture of solar power. Low ion glass is proving to be of value because it drives the market for CSP. CSP has been further proven in newly operational installations, including Ivanpah."
Concentrating Solar Power (CSP) has moved from the trial stage to the early adopter stage. With the Ivanpah solar electric generating system on line, the ability to offer steam generated electricity from the sun is compelling. There are significant advantages to using existing steam generator technologies with renewable energy to power the steam generator. Ivanpah CSP is positioned to strengthen the US economy and solar supply chain, shifting toward energy independence.
Inquire Before Buying Report: http://www.marketresearchreports.biz/analysis/193952
Low iron glass CSP represents 3% of the world glass production. Markets at $355 million in 2013 are expected to reach $11.3 billion by 2020. Growth is expected to achieve 15% of total low iron glass at glass production in 2020, i.e. the same level as automotive glass.
Companies Profiled
Market Leaders
Ribgrass
Schott - Receivers
Solar
Guardian
ACWA Holding / SUN & LIFE / Filibeg
Market Participants
Almelo Solar
China Glass Holdings
Dubai Investments PJSC
Guangdong Golden Glass Technologies
Guangfeng Solar glass (Hong Kong)
Gujarat Broil Ltd. (GBL)
Hangzhou AMD PV Glass
Hacker Glastechnik
Interfluent
Jinxing Group
Nippon Sheet Glass NSG Group
Oerlikon Solar
Pilkington
Reflectance
Check Out These Key Topics
Low Iron Glass
Concentrating Solar Power (CSP)
Niño Silver Coating
Mirror Durability
Reflectivity
Polyvinyl butyric (PVB)
Silver Coatings
CSP Low Iron Solar Glass
Clear Float Glass
Mirror Quality on Plant Performance
Ivanpah
Receiver Mirrors
Latest Reports:
Research on China Coal Tar Industry, 2013-2017
http://www.marketresearchreports.biz/analysis-details/research-on-china-coal-tar-industry-2013-2017
In 2012, the production capacity of China's coal tar industry was 22 million tons, and the output was 18 million tons, in which 68 million tons was used in producing carbon black. In 2013, influenced by downstream market, the operating rate was rising and China's coal tar output has reached 20 million tons.
While limited by raw materials, the coal tar producing areas mainly located in Northern China and Eastern China and each has taken up 41.53% and 27.57%. These two regions' high temperature coal tar producing capacity is approaching to 69.1% of the whole country's production capacity. Due to the industrial expansion in Central China, the region's production capacity has been released, and the proportion of total coal tar producing capacity has reached 11.83%.
In 2013, the coal tar market has experienced several vibrations in China. The peak price of coal tar appeared in the late March with the average price of CNY 2842.86 per ton. The bottom price appeared in November with the average price of CNY 2580.00 per ton. In the beginning of 2013, the average Ex-factory price was CNY 2697.71 per ton, and till the end of the year, the average price fluctuated to CNY 2720.00 per ton, increasing 0.90% as a whole.
To Download Full Report With TOC: http://www.marketresearchreports.biz/sample/sample/192516
Table of Contents
1. Development Environment Analysis on Coal Tar Industry in China
1.1 Characteristics of Coal Tar Market
1.1.1 Definition
1.1.2 Characteristics
1.2 Economy Environment
1.3 Policy Environment
2. Technology Development of Coal Tar in China
2.1 Current Technology of Coal Tar Processing
2.2 Maturity Analysis on Coal Tar Technology
2.3 Gap of Coal Tar Technology between Home and Abroad & Main Reasons
2.4 New Technology of Coal Tar Processing
3. Current Status of Coal Tar Processing Industry in China
3.1 Processed Coal Tar Products & Application
3.1.1 Naphtha
3.1.2 Wash Oil
3.1.3 Anthracite Oil
3.1.4 Crude Naphthalene
3.1.5 Coal Tar Pitch
China Solar Water Heater Industry 2014 Deep Research Report
http://www.marketresearchreports.biz/analysis-details/china-solar-water-heater-industry-2014-deep-research-report
The report firstly introduced Solar Water Heater basic information; included Solar Water Heater definition classification, application industry chain structure, industry overview, international market analysis, China domestic market analysis, Macroeconomic environment and economic situation analysis, and influence, Solar Water Heater industry policy and plan, Solar Water Heater product specification, manufacturing process, product cost structure etc. then statistics China key manufacturers Solar Water Heater capacity production cost price Gross production value gross margin etc details information, at the same time, statistics these manufacturers Solar Water Heater products customers application capacity market position company contact information etc company related information, then collect all these manufacturers data and listed China Solar Water Heater capacity production capacity market share production market share supply demand shortage import export consumption etc data statistics, and then introduced China Solar Water Heater 2009-2019 capacity production price cost Gross production value gross margin etc information.
To Get Download Full Report with TOC: http://www.marketresearchreports.biz/sample/sample/192549
And also listed Solar Water Heater upstream raw materials equipments and downstream client alternative products survey analysis and Solar Water Heater marketing channels industry development trend and proposals. In the end, this report introduced Solar Water Heater new project SWOT analysis Investment feasibility analysis investment return analysis and also give related research conclusions and development trend analysis of China Solar Water Heater industry.
In a word, it was a depth research report on China Solar Water Heater industry. And thanks to the support and assistance from solar Water Heater industry chain related technical experts and marketing engineers during Research Team survey and interviews.
About Us
Marketresearchreports.biz is the most comprehensive collection of market research reports. Marketresearchreports.biz services are especially designed to save time and money of our clients. We are a one stop solution for all your research needs, our main offerings are syndicated research reports, custom research, subscription access and consulting services. We serve all sizes and types of companies spanning across various industries.
Contact US:
Office: United States
State Tower
90 State Street, Suite 700
Albany, NY 12207
Tel: +1-518-618-1030
E: sales@marketresearchreports.biz
Web: http://www.marketresearchreports.biz/