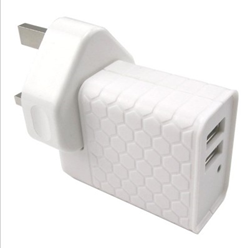 (PRWEB) April 13, 2014
As a reliable online shop of electronics accessories, Hiconn Electronics has been serving worldwide distributors for several years. Recently, the outstanding supplier has announced its new collection of 2-Ports AC USB Power Adapters. In addition to this, all these high end adapters are available at discounted prices now, up to 32% off.
It is worth mentioning that Hiconn Electronics deploys strict regulations and quality checks to make sure that each of its electronics accessories is an excellent item. Its aim is to help worldwide distributors to get all kinds of equipments without having to spend a lot of money.
Here are some details about the company's brand new 2-Ports AC USB Power Adapters:
•Input: 110-220V 50Hz
•Output: 5V/3A/15W
•Color: White & Black
•Smart, compact, light weight, and convenient for traveling
•Simply plug it into an electrical outlet and charge using the USB cable (not included)
•Intelligent IC chip inside recognizes a fully charged battery and automatically switches to a saver mode to prevent overcharging and short circuit
•LED indicator
Because of its high quality products are considerate services, Hiconn Electronics is now known as a well-respected supplier in the global market. The company has thousands of VIPs from around the world, and a lot of them like its products very much. At present, it is offering over 500 different kinds of wonderful electronics accessories for worldwide clients.
About Hiconn Electronics
Hiconn Electronics (Shenzhen Hiconn Electronics Co. Ltd.) is devoted to designing and manufacturing a wide range of connection cables and customized cable assemblies, offering many HDMI cables, VGA cables, SATA cables, USB cables, 1394 cables, DVI cables, SCSI (Small Computer System Interface) and more. For more information, please visit http://www.hiconn.net/.
Contact Person: James Yin (Sales Director)
Company Name: Shenzhen Hiconn Electronics Co., Ltd.
Address: Shenghua Building., Xixiang Road., Baoan District, Shenzhen, Guangdong Province, China
Zip Code: 518102
Tel: +86-755-8109 8345
Fax:+86-755-2779 3497