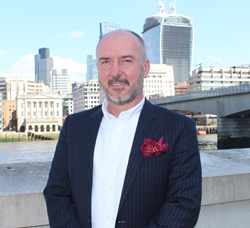 I look forward to collaborating with the world's top supply chain practitioners to learn together and keep pace with the rapidly evolving challenges, technologies, and solutions across the manufacturing industry," said Pierfrancesco Manenti
London, United Kingdom (PRWEB) April 14, 2014
SCM World, the leading global community of supply chain professionals, today announced that Pierfrancesco Manenti has been appointed to its executive research team to lead the research practice for Manufacturing Operations, Supply Chains, and Product Life-Cycle strategies.
Pierfrancesco joins a seasoned research team made up of the profession's most respected thought leaders who work closely with senior supply chain leaders across the SCM World community to deliver a dynamic content agenda of practitioner-driven webinars, research projects, data insights, peer exchanges and events.
In his role as Vice President, Research, Pierfrancesco will provide research and insights to leading global manufacturers and specialty IT vendors into the key challenges and trends affecting manufacturing industries, including Automotive, Machinery, Aerospace, Wearing Apparel/Fashion, CPG, and High-Tech.
"We are delighted to welcome Pierfrancesco to the SCM World research team. He brings 20+ years of deep manufacturing industry experience and rich perspective that will accelerate learning for current and future leaders across the SCM World community," said Kevin O'Marah, Chief Content Officer for SCM World.
Prior to joining SCM World, Pierfrancesco served as Head of EMEA for IDC Manufacturing Insights where he led the EMEA research practice and was the global lead for the Operations Technology Strategies advisory service. Previously, Pierfrancesco spent many years with TXT e-solutions, a Europe-based SCM software vendor, where he held increasing roles and responsibilities including UK operations director.
"I am pleased to join the burgeoning global SCM World team and community, and look forward to collaborating with the world's top supply chain practitioners to learn together and keep pace with the rapidly evolving challenges, technologies, and solutions across the manufacturing industry," said Pierfrancesco Manenti, Vice President, Research for SCM World.
About SCM World
SCM World is the leading global community of senior supply chain professionals. Harnessing the collective brainpower of the most forward-thinking practitioners from the world's foremost companies, SCM World accelerates learning for current and future supply chain leaders. Over 150 companies participate in and contribute to the SCM World community, including P&G, Nestle, Samsung, Lenovo, Nike, Walgreens, Merck, Jaguar Land Rover, Raytheon, Chevron, BASF, GlaxoSmithKline, and AT&T. http://www.scmworld.com